In Kenya, a car is still a luxury for many but for many low-income families, cars may be the key to greater opportunities. From the convenience of weekend trips to the daily commute to work or school especially during rainy seasons and even the ability to run small businesses.
The need to own a car in Kenya arises not only from the inherent preeminence of driving but rather, public transport systems in our country are inconsistent, not fully dependable, and lack undisrupted connectivity to rival a good motor vehicle.
With the recent rise of car prices in the international market, the dream to own a car would have been pushed further if not for auto finance companies like Autochek that allow a deposit payment from as low as 10% after which one can drive off with the car of their choice and pay the balance over an agreed period.
For many, the first question that comes to mind while shopping for a car is the cost of purchase followed by how expensive it will be to maintain the motor vehicle, more so for families with limited resources. Most average households that are somehow able, willing, or afforded the opportunity to acquire a car might also choose other ways of acquiring a car.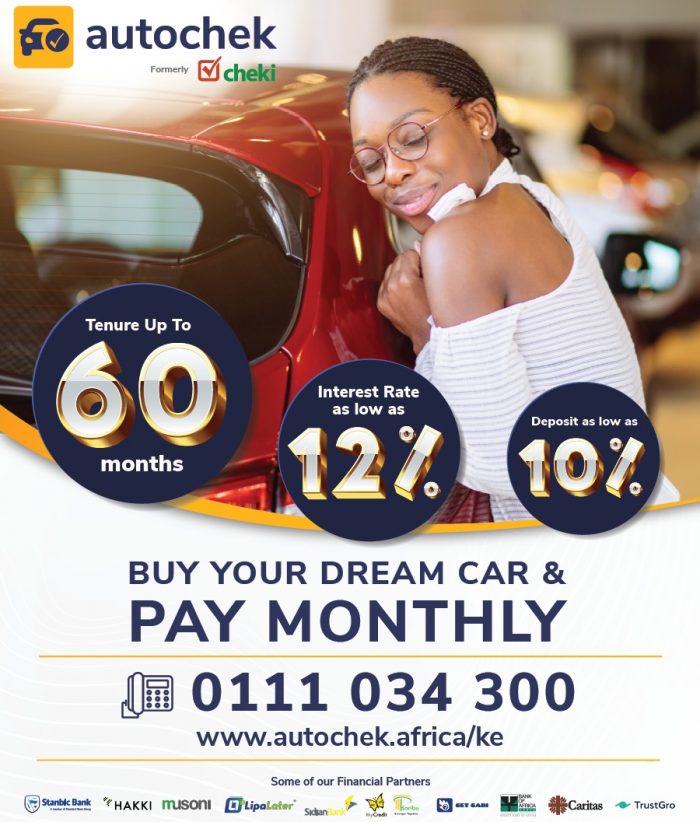 "Customers are not only opting for car financing to cash purchases but are actually going for long term loans that have lower monthly payments due to the rise in car prices caused by low supply and high demand in the international market, coupled with increased preference in crossovers and SUVs" highlighted Autochek Kenya's country manager, Bilhah Muriithi.
You also find that families within this bracket, who have growing businesses, will also not only benefit from car financing but their credit scores will improve in the process. This is sole because a truck or minivan might be what is missing in the equation to expand the business. Once they have finished repaying the first loan successfully, they find that their credit scores also automatically improve. With good credit scores, approvals for a second or third loan come without difficulty.
As the demand for cars grows within this market segment, so will the financing options because car dealers and other players in the market are keen on facilitating car ownership. Platforms like Autochek have taken the lead by partnering with players in the financial services sector to make car ownership a reality. In a growing economy, this has come in handy as the demand for cars rises and more people become eligible for car ownership.