The Kenya National Examination Council (KNEC) has announced that all 2021 KCPE and KCSE certificates have been delivered to schools nationwide.
KNEC has called on learners to collect their certificates and reach out to them in case of any errors and mistakes. There were concerns over the delay in releasing the certificates.
Here is a statement from KNEC posted on their official social media channels: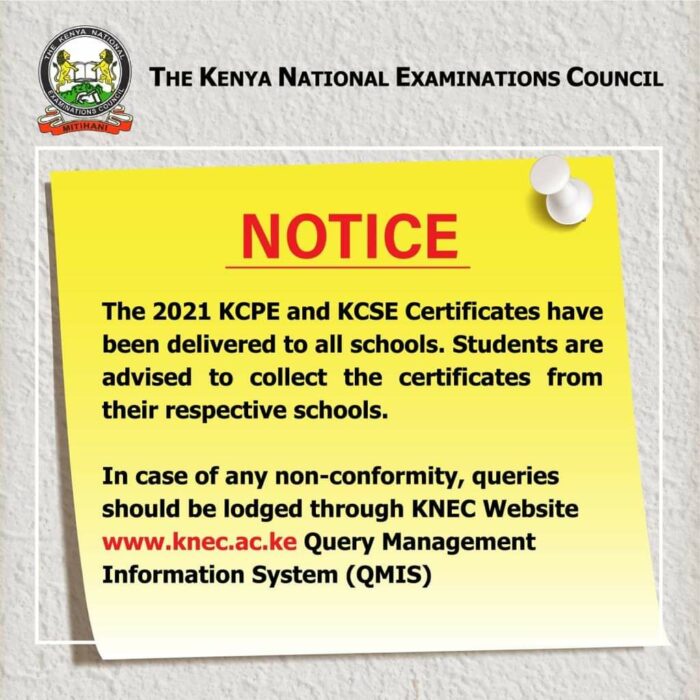 KNEC has also assured parents and teachers that the preparation for the 2022 KCPE and KCSE certificates is in the offing and will release to schools as soon as they are done.
What a section of Kenyans is waiting for is for the Examination Council to announce the resumption of replacing lost or misplaced certificates. Currently, in the past 2 years, KNEC has not been replacing lost certificates disadvantaging millions of Kenyans who might have lost theirs.
When will examiners be paid?
As KNEC continues with its operations, questions still linger as to when the examiners who marked the 2022 KCSE exams will be paid. Almost three months down the line and the examiners haven't been paid.
KNEC had indicated that it had no funds to pay the examiners. The body said it was waiting on the National Treasury to release the funds after which the examiners would be paid.
Teachers, through the umbrella body, KUPPET, had vowed to camp at the KNEC headquarters until their money was paid. The Cabinet Secretary for Education, in a statement, indicated that plans were underway to pay the examiners before the month of June.
How will future examiners and invigilators be selected?
After reports of widespread examination cheating in the last KCSE, members of Parliament have agreed that all examiners and invigilators will have to be vetted by the Directorate of Criminal Investigation (DCI). Teachers say that will not stop cheating either.