Changamka Shopping Festival Kicks Off At KICC
The 5th edition of the Changamka Shopping Festival by the Kenya Association of Manufacturers has officially kicked off at KICC.…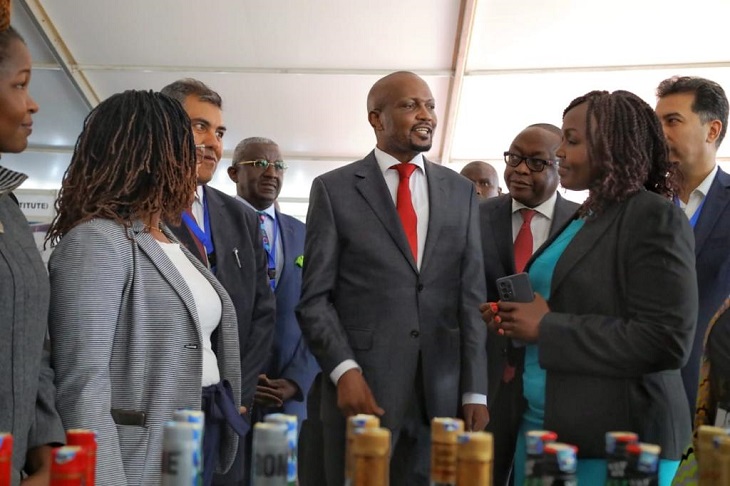 The 5th edition of the Changamka Shopping Festival by the Kenya Association of Manufacturers has officially kicked off at KICC.
The festival, which will run from 1st-5th November brings together local manufacturers to showcase high-quality locally manufactured products. This is in a bid to celebrate the sector's ingenuity and promote the Buy Kenya Build Kenya initiative.
The Shopping Festival was officially opened by the Cabinet Secretary, Ministry of Investments, Trade and Industry, Hon. Moses Kuria lauded KAM for organizing the Changamka Shopping Festival.
He noted that it is important to support the local manufacturing sector since it contributes to tax revenue growth, and job creation increases exports, and supports various value chains, including Micro Small, and Medium Enterprises (MSMEs).
"Kenyan manufacturers need to increase their focus on enhancing value addition and by doing so, we shall be able to be a more self-reliant nation, source raw materials locally as well as competitively produce goods and services for the local and global market."
The Association's Chairman Rajan Shah emphasized the need to continuously enhance and advocate for a competitive manufacturing sector by addressing the gap in the consumption of locally manufactured goods.
"Kenya is endowed with diverse resources including human capital, raw materials, and renewable energy sources, among others, that have the potential to transform the country towards shared prosperity. Consuming our local products, as a nation, instills in all of us a sense of ownership and pride in our products which strengthens our economy. It is important that we continue in our bid to drive the Buy Kenya Build Kenya initiative."
The festival offers manufacturers an opportunity to showcase the quality and diversity of locally manufactured goods made for local, regional, and international markets, besides being able to meet their customers and sell their goods at discounted prices.
Changamka is part of the Association's initiatives to drive the country's economic growth and increase the consumption of locally manufactured goods. The Festival aims to dismantle the long-held belief that local goods are not of high quality and to reduce over-reliance on imports.
The Association shall also host the festival in Kisumu on 1st – 4th December at Aga Khan Hall. It shall feature exhibitors, drawn from various manufacturing sectors, including Food and Beverage; Textiles and Apparel; Metal and Allied; Energy; Plastic; Fresh Produce; Chemical and Allied; Automotive; Paper and Paperboard, and Leather and Footwear.
The festival is sponsored by NCBA as the platinum sponsor as well as Kenya Breweries Limited (KBL) and Capwell Industries.
About Post Author