Nokia C20 is a perfect smartphone for the budget, particularly for those looking to have an immersive viewing experience without spending much and it incorporates a range of intuitive features ideal for everyday use.
From a Nordic design to a quality build to all-day battery life, it doesn't just look great, it will also take on life's little knocks. It is the kind of phone that is large enough to fit in your pocket or purse and small enough to fit in your hand.
Here are the features: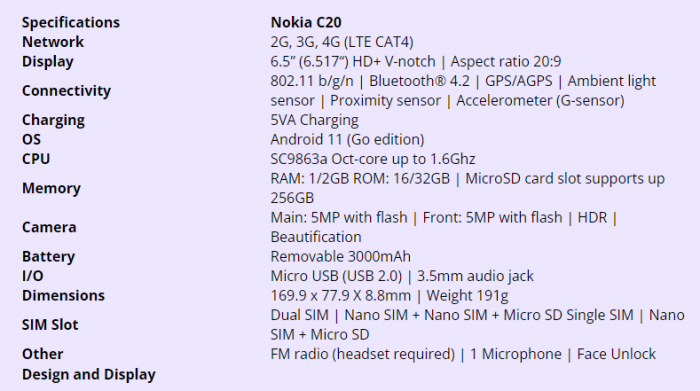 One may not be a design enthusiast, but the sleek shape and bezels the Nokia C20 carries are just irresistible. It has an elegant, simple, and minimalistic look and a feel that is easy to adapt to minutes after holding it.
The phone isn't just sleek, it's built from quality materials that are made to last. The sturdy polycarbonate shell means Nokia C20 is ready for life's surprises. That's one less thing to worry about.
Being a higher version of the Nokia C10, the Nokia C20 packs a 6.52-inch display with a resolution of 720×1600 pixels, which is enough to pave way for crystal clear visuals. And with an aspect ratio of 20:9, the C20 is big on entertainment and big on lasting till the credits. You can watch, play, and stream videos online without quality compromise.
Better yet, the wide HD+ screen is big enough for the whole family to gather around and enjoy a movie. With the December festivals just around the corner, you need a phone that will take care of your need, both in communication and uplifting your social life.