StarTimes Unveils Winners Of Buy, Recharge And Win Promotion
StarTimes Media has concluded a two-month competition campaign dubbed Buy, Recharge, and Win promotion and announced grand winners of weeks…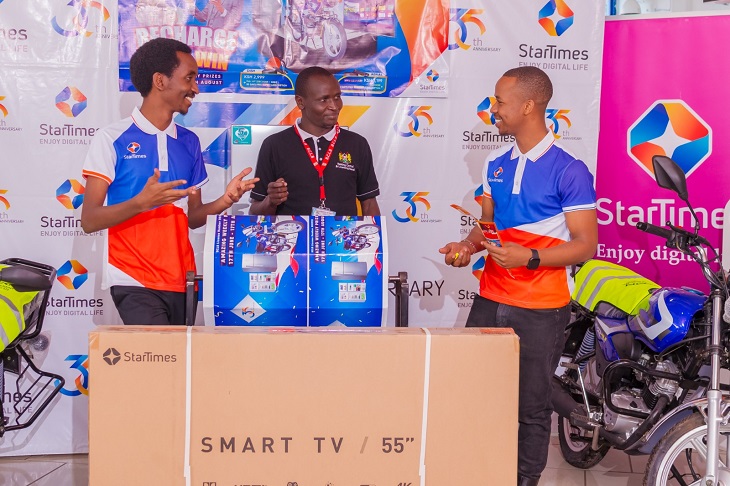 StarTimes Media has concluded a two-month competition campaign dubbed Buy, Recharge, and Win promotion and announced grand winners of weeks 7 and 8.
The promotion commenced on the 15th of June 2023 and ended on the 11th of August 2023. Marking two months campaign aimed to mark the company's 35 years in business.
Speaking during the StarTimes' Head Public Relations event, Mike Mugo extended his hearty congratulations to the grand winners and the participants.
Mr.  Mugo emphasized StarTimes' commitment to enhancing customer experiences and expressed gratitude to society by fostering consumer competition and making it successful.
"As the "Buy, Recharge & Win" chapter draws to a triumphant close, it leaves behind a trail of exhilaration, anticipation, and unforgettable moments, "he said.
Mr. Mugo emphasized that the promotion stood out as a testament to StarTimes' unwavering dedication to investing in top-notch local content and programming, thereby prioritizing their customers' utmost satisfaction.
He further unveiled StarTimes Media's latest stride – a flexible subscription payment system catering to diverse preferences.
"Subscribers can now enjoy the freedom to opt for daily, weekly, or monthly payment options, ensuring a seamless and personalized viewing experience," he noted.
Among the winners of Week 7 were Sheila Obote from Vihiga, Josephine Kerubo from Kisii, and Moses Komu from Nyeri while in Week 8, Godfrey Oundo from Busia, Teresia Wangechi from Nakuru, and Bashir Juma were announced as winners of week 8.
The announced winners will walk away with gifts including a Motorcycle, a Two-door Fridge, and a gleaming 55-inch Smart Television.
About Post Author