Standard Chartered Launches The 20th Edition Of The Nairobi Marathon
Standard Chartered has today launched the 20th edition of the Standard Chartered Nairobi marathon at Uhuru Gardens. The ceremony was attended by…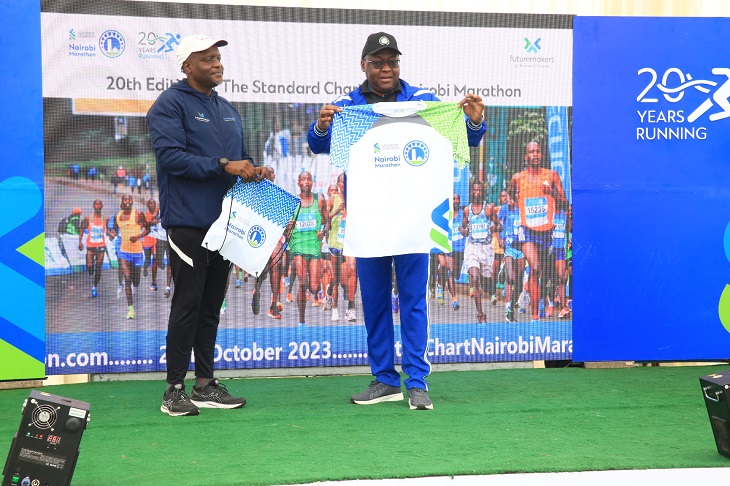 Standard Chartered has today launched the 20th edition of the Standard Chartered Nairobi marathon at Uhuru Gardens. The ceremony was attended by over 200 guests and was also graced by key delegates that included the Deputy Governor, Nairobi City County; James Njoroge Muchiri, the Athletics Kenya President, Gen. Jackson Tuwei, the CEO Standard Chartered, Kariuki Ngari, the Commanding Officer, Uhuru Gardens – Major Ernest Yego, several sponsors, partners, and running clubs, among others. 
The 20th edition held under the theme "20 years of running,' marks two decades of the Bank's commitment to delivering a premier, IAAF-accredited international mass participation sporting event that aims to;
The Head of Brand and Marketing while welcoming the guests and revealing the 20th-anniversary identifier shared the Nairobi Marathon impact stating; With this 20th edition we intend to give you an experience like no other as this is a huge milestone not just for us, but our partners, sponsors and the runners who have continuously supported our initiative in building a future generation.
Highlighting the impact that marathon has had over two decades she added; "we are proud to once again bring you a marathon that promotes talent. Many young athletes in Kenya rely on our IAAF-approved international marathon to jump-start their sporting careers and improve their livelihoods. Furthermore, since the launch of our FutureMakers program aimed at tackling inequality and encouraging economic inclusion for the younger generation in 2019, we have invested KShs 311 million that we invest into Futuremakers initiatives that have impacted over 24,000 beneficiaries to date."
While unveiling the 20th edition race kit, Joyce Kibe, the Standard Chartered Head of Corporate Affairs, Brand and Marketing said; "This year, the physical Standard Chartered Nairobi Marathon will be held on Sunday, 29th October 2023 on the Southern Bypass with Uhuru Gardens as the marathon venue, while the satellite marathons in Kisumu, Mombasa, and Eldoret will kick off starting 22nd October to 29th October 2023.
The event will feature all six race categories: 42km male and female, 21km male and female, 10km male and female, 21km wheelchair male and female, 5km Family Fun Run race, and the Corporate Relay Challenge.
This year's target is to have 25,000 runners participate in the physical marathon. With this launch, the registration portal is officially open on www.nairobimarathon.com until 15th October 2023.
The registration fee for this year's marathon remains KES 2000 and the late registration entry fee will be KES 2500, after 10th October 2023."
The registration money collected from the marathon will be channeled towards the Standard Chartered Futuremakers programs that support future generations to learn, earn, and grow. 2022 was also the year we saw a record contribution of KES 37 million raised for the FutureMakers initiative.
On his part, before leading a procession to plant commemorative trees, Kariuki Ngari, the CEO of Standard Chartered Kenya and East Africa in his address stated; "As we mark the 20th anniversary of the SC Nairobi marathon, Sustainability remains a key conversation and ambition which propels the marathon beyond a sporting event. In 2022, over 20,000 runners registered to participate in the Nairobi Marathon, and we distributed over 25,000 seedlings in various parts of the country alongside other environmental protection measures.
He further added: This year we have re-introduced an executive category and I will be inviting my peers to join me in the 10 Kilometre CEO Challenge. We will have a training program to help them prepare as well and of course to plant a tree.
Hon. James Njoroge Muchiri the Deputy Governor, of Nairobi City County during his address commended Standard Chartered for this sponsorship and consistency reiterating;
"We are honored to host the prestigious Nairobi Marathon in our vibrant city. This marathon serves as a testament to Kenya's status as a global hub for sports and showcases our commitment to promoting a healthy and active lifestyle among our citizens. The Marathon also not only promotes and celebrates athletic excellence but also brings economic benefits to our city, as it positions the city as a premier destination for sports events as well as attracts participants, spectators, and international attention. We are excited to work hand in hand with Standard Chartered Kenya, Athletics Kenya, and all stakeholders to ensure a successful and memorable event that reflects the spirit and energy of Nairobi."
About Post Author