StanChart To Raise 10% Of Revenue From Sustainable Sources
Standard Chartered Bank of Kenya aims to raise ten percent (10%) of its revenue being generated from sustainable sources pegged…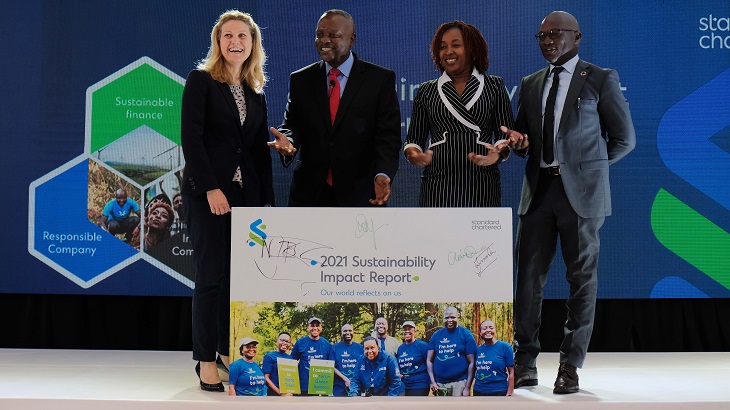 Standard Chartered Bank of Kenya aims to raise ten percent (10%) of its revenue being generated from sustainable sources pegged on the bank's sustainable economic growth perspective which has two client business segments – Corporate Commercial and Institutional Banking (CCIB) and Consumer, Private & Business Banking (CPBB).
This is according to the Sustainability Impact Report 2021 which details the bank avenues in leveraging the social, commercial, and environmental impacts to support strategy, achieve the purpose, and impact the future.
Chief Executive Officer, Standard Chartered Bank Kenya – Mr. Kariuki Ngari commented, "In 2021, we reflected and sharpened our impact ambitions, approach, and priorities and linked them to the most pressing needs in society. Our inaugural Sustainability Impact Report highlights the efforts we have made to accelerate the stewardship of our environment, widen economic participation between and within communities, and address the growing imbalances brought about by globalization."
The report also states the avenues the bank has done in driving operational efficiency. This is using substantially less energy and water and producing less waste and carbon emissions this year. A total reduction in energy use of 25.4% and water use of 54% was achieved, with waste production reduced by 24.3% and the carbon footprint by 45% when compared year on year. This was not only facilitated through the migration to remote work but also through the usage of LED lighting, grid-tied solar panel installations, waste recycling, and water recycling among others.
The bank also prioritized investments in job-creating sectors such as manufacturing, energy, water, and ICT sectors which amounted to KShs 136 billion.
Digital innovation was also key as the bank continued to innovate new products and made banking easier. More than 92% of clients used Straight2Bank to access channels for collections, payments, tax, payroll, mobile wallet, trade finance, custody, and foreign exchange (FX) services with convenience and safety. Over 85% of FX client activities are now being originated on digital platforms. This enabled the bank to increase efficiency and improve service levels for our clients.
The bank also created an inclusive culture, promoting ethical conduct and supporting colleagues' well-being. Gender parity on the Board has improved from 23% in 2019 to 45% in 2021, with women at the management level and across staff now set at 47% and 54% respectively.  Although women-owned businesses in the supply chain only constitute 17% of our vendor base and contribute 2% of vendor spend, the target set is to increase to 30% by 2024.
In cybersecurity, the bank has invested over KShs 200 million over the last few years to deploy first-in-class technology and training to fight financial crime and fraud.
The bank also continues to support communities through Futuremakers – The global initiative to tackle youth economic inclusion and enable the next generation to learn, earn and grow to focus on three pillars – Education, Entrepreneurship, and Education. The bank has so far raised the total contribution to KShs 311 million since 2019 which has impacted over 24,000 beneficiaries to date.
The Women in Technology incubator has had a total of 40 beneficiaries supported. The Goal Programme, an education initiative for empowering young girls has also impacted a total of 14,625 beneficiaries by 2021. Further focus on employability, saw 4,805 university students supported in 2021 under the EmployABLE program, 244 of which were students with disabilities.
By participating in accelerating to net zero in our communities, the bank also launched and signed a three-year strategic partnership with the Nairobi Arboretum Conservancy Community Forest Association (NACCFA) to rehabilitate The Nairobi Arboretum Park and promote urban green spaces through the restoration of running paths, support education and creating awareness on conservation of the environment in the community.
The bank also launched the new format for the 18th edition of the Standard Chartered Nairobi Marathon due to the COVID-19 restrictions with at least 5,600 participants completing both formats of the marathon receiving a tree seedling to plant at their place of choice with over KShs 6.7 million being raised for Futuremakers.
About Post Author