Stanbic's Dada Recognized For Its Impact On Women
During the annual DIAR annual Awards that recognize organizations, institutions, and individuals who have excelled in mainstreaming and championing Diversity…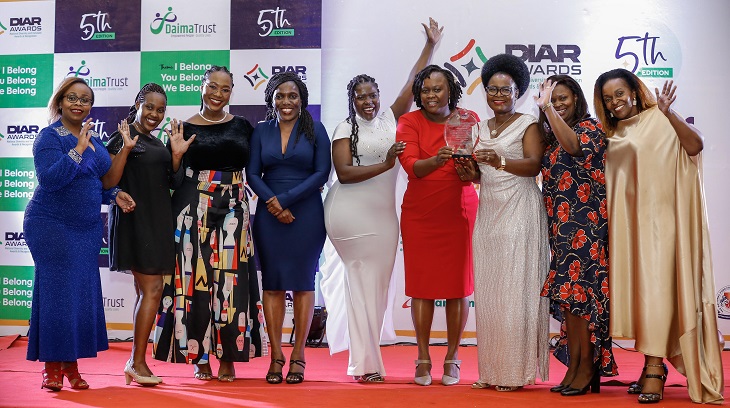 During the annual DIAR annual Awards that recognize organizations, institutions, and individuals who have excelled in mainstreaming and championing Diversity and Inclusivity, Stanbic Kenya won in the Best Impact Investing Initiative category for its DADA platform.
Stanbic Kenya was recognized for the Dare to Aspire Dare to Achieve (DADA) Platform and the lender's participation in the Sourcing2Equal Kenya (S2E) initiative.
"We have created purposefully designed platforms and policies that provide women and women-owned enterprises with access to products and services, enabling them to better participate in economic opportunities. We believe that these initiatives will promote the overall well-being of society," said Silpah Owich, Head of women Banking at Stanbic Bank Kenya.
The DADA platform is an initiative designed to enable women to start and grow their own businesses while the Sourcing2Equal Kenya (S2E) is a private sector two-year peer learning platform to increase women's participation in corporate procurement opportunities. The initiative has seen the number of women-owned businesses contribute eight percent of the Bank's procurement while the value of goods and services delivered stands at 14 percent.
To date, Stanbic Bank Kenya has committed Ksh 20 billion (approximately US$ 185 million) to DADA to finance women. As of January 2023, and since the DADA proposition was launched 41 months ago the total number of new bank dadas was 53,000.
By giving women increased access to capital, as well as capacity building through education and business mentorship, this solution was created to specifically address gender inequality. Stanbic Bank Kenya has been intentional in their focus on diversity and inclusion, with a specific focus on women. The bank is embracing the complexity and is constantly going beyond to develop new solutions, as well as deliver tools and training that challenge norms and encourage a positive change for women, and the future of work.
Thus far, we have successfully offered 26,095 capacity buildings and entrepreneurial skills training. Additionally, we have successfully issued loans worth Ksh 11.7 billion to women enterprises through the same program. Under the Stanbic Foundation health pillar in partnership with DADA has undertaken 25,592 Cancer screening throughout the country and 152,000 Digital pieces of training. This is the 3rd year we are partnering with NGOs to extend the cancer screening service to community members. Over the same period, the Stanbic financial fitness academy and capacity-building forums have skilled over 94,000 beneficiaries.
The Bank is continuously investing in similar partnerships that can enhance diversity and inclusion across the country.
About Post Author