Shelter Afrique Donates Books And Foodstuffs To Help Kids Remain In School
Pan-African housing development financier Shelter Afrique through its foundation, the Shelter Afrique Foundation, has donated foodstuffs, clothing, books, and other…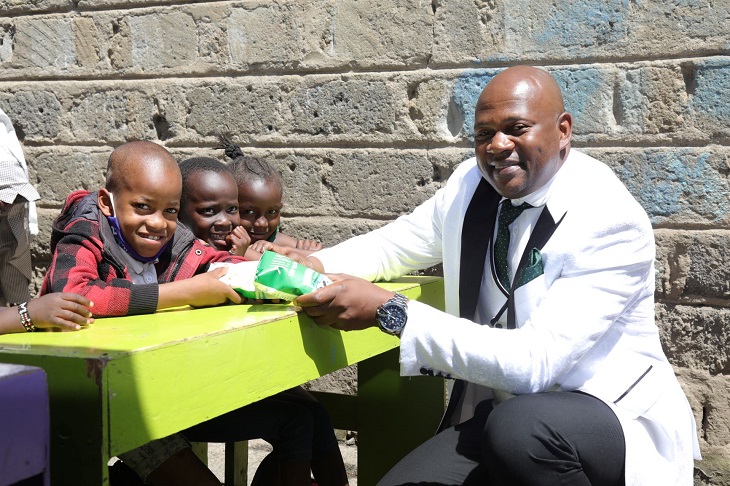 Pan-African housing development financier Shelter Afrique through its foundation, the Shelter Afrique Foundation, has donated foodstuffs, clothing, books, and other assorted items and equipment in support of Christ Chapel Children's Home.
The children's home-based in Nairobi's Huruma estate is currently giving care to 82 orphaned and vulnerable children from slum areas under its residential and outreach programs.
Handing over the items to Christ Chapel Children's Home Executive Director Gloria Ndunge, Shelter Afrique's Group Managing Director and Chief Executive Officer Andrew Chimphondah said the Company was keen on supporting social projects that target low-income beneficiaries.
"As an organization, we recognize the work done by institutions such as Christ Chapel Children's Home in support of the vulnerable in the society as it sits well with our corporate social responsibility (CSR) policy. We hope these donations will cause a positive change in the lives of these children, more so during this Corona Virus pandemic," Mr. Chimphondah said.
Thanking Shelter Afrique for the donations, Ms. Ndunge said the pandemic had increased the burden of running such homes, adding that corporate and individual supports are welcome.
"We currently have 82 children under the care of the home out of which 70 and 12 are under residential and outreach programs respectively, with a monthly funding need of around Ksh130,000, but we raise around Ksh45,000 each month. We are grateful to Shelter Afrique for the generous donation," Ms. Ndunge said.
The Shelter Afrique Foundation was established in 2016 to support Shelter Afrique's advocacy and research work, while active in advocacy and research through its Centre of Excellence. Shelter Afrique Foundation has so far provided relief materials to over 6,000 beneficiaries across Africa in response to the COVID-19 crisis, with Kenya Medical Research Institute (KEMRI) and Machakos County Government as some of the local beneficiaries. Others include social projects in Nigeria, Ivory Coast, and the Central Africa Republic.
Shelter-Afrique is owned by 44 African countries, the African Development Bank, and the African Reinsurance Corporation (Africa-Re). The Foundation was established in 2016 to support Shelter Afrique's advocacy and research work and to manage the company's CSR program.
About Post Author