PRSK Installs A New And Fresh Blood In Office
Members of the Public Relations Society of Kenya (PRSK) have elected new officials for the position of Vice President, Secretary…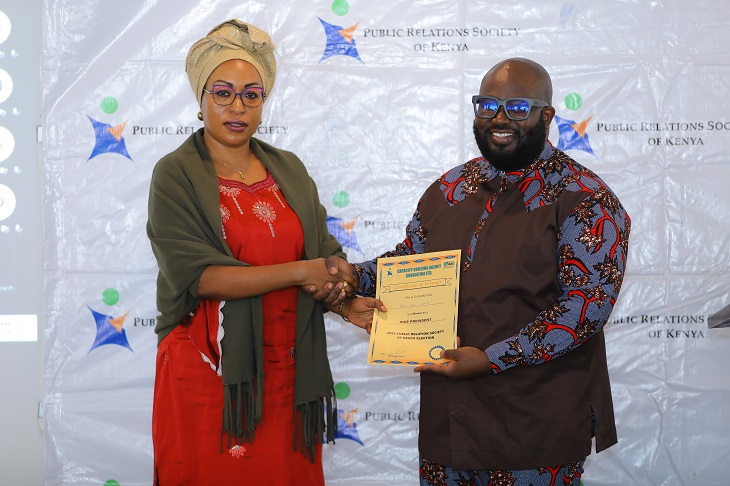 Members of the Public Relations Society of Kenya (PRSK) have elected new officials for the position of Vice President, Secretary General, Assistant Treasurer, and Council Members in their recently concluded Annual General Meeting.
The newly elected team will be joining other Council Members in their pursuit of advancing the field of public relations in Kenya and advocating and lobbying for the enactment of the Institute of Public Relations and Communications Management (IPRAC) Bill into law. 
During the Society's Annual General Meeting, Patricia Ndede from Simori Communications was elected Vice President, a position she retained from the last elections. Insurance Regulatory Authority's (IRA) Noella Mutanda vied unopposed to retain the Secretary General Position while the Assistant Treasurer position was won by Samuel Mutahi from the Kenya Airports Authority (KAA). Jesse Masai, Lydia Rosasi, and Edward Wanyonyi were elected as Council Members respectively.   
Speaking during the meeting that was held in Nairobi, the President, Arik Karani stated, "We congratulate the newly elected Vice President, Assistant Treasurer, and Council Members on their successful election. I am confident that their dedication and expertise will be instrumental in driving our organization's mission forward, as we work towards achieving legal recognition through the IPRAC Bill." 
The PRSK Council has been working closely with the Cabinet Secretary Ministry of Information, Communications, and the Digital Economy Hon Eliud Owalo and his team to get the Bill passed, to professionalize and standardize the public relations industry. In her acceptance speech, the Vice President-elect noted that the election candidates had great ideas that would greatly benefit the membership. "The high level of engagement and participation in this year's electoral process reflects the enthusiasm and dedication of PRSK members towards shaping the future of our organization. I will work closely with the PRSK leadership and members in the actualization of the IPRAC Bill and spearhead other initiatives that will grow our Society, "stated Patricia Ndede.
Mr. Yomi Badejo-Okusanya, the President of the Africa Public Relations Association (APRA) also issued a statement that said, "The African Public Relations Association (APRA) is most delighted with the election of the office bearers of the Public Relations Society of Kenya. PRSK has been steadfast in its commitment to fostering professional growth, promoting ethical practices, and serving as a platform for collaboration and knowledge sharing among public relations practitioners in the East African region. We look forward to working together to advance the cause of the profession on the continent." 
The newly elected leaders will be joining other Council members, Arik Karani (President) Treasurer (Samuel Karanja), and Assistant Secretary (Vivienne Atieno). It is expected that the leadership will support the current Chief Executive Officer, Ms. Sylvia Mwichuli, to roll out the certification Programme in September, which will be offered in partnership with Daystar University and KASNEB. This will be the first milestone for the new crop of leadership.
About Post Author