Oppo Kenya Donates Hand Sanitizers Towards Covid-19 Fight
As the world continues to battle the fast-spreading deadly Coronavirus that has now claimed over 50,000 lives, global electronics giant…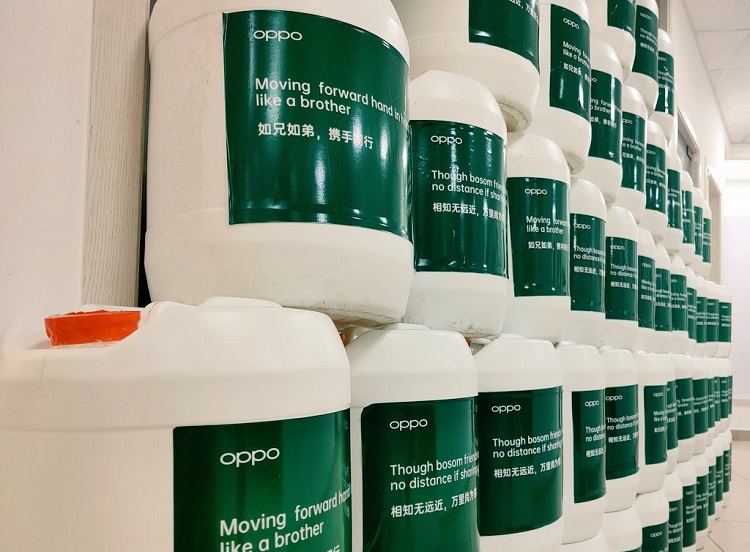 As the world continues to battle the fast-spreading deadly Coronavirus that has now claimed over 50,000 lives, global electronics giant OPPO Kenya has joined Kenyans in the fight against the virus by donating hand sanitizers.
In a statement posted on their Twitter handle, OPPO Kenya says it has donated 1,000 liters of hand sanitizers that "will go way in aiding the efforts towards flattening the curve" of Covid-19. The government, through the Ministry of Health, has been calling on Kenyans of goodwill and well-wishers to join the fight to contain the virus.
"As we encourage Kenyans to keep on sanitizing and washing hands as a measure to mitigate the spread of Covid-19, we have today donated 1,000 liters of hand sanitizers that will go a long way in aiding efforts towards flattening the curve," said OPPO Kenya in a statement.
In the past two weeks, OPPO Kenya has been leading a campaign called #OppoCares that has been encouraging Kenyans to stay at home, maintain social distancing and observe high levels of hygiene through washing hands using water and soap of the use of approved hand sanitizers.
As much as many people are adhering to the call to wash and sanitize their hands, according to OPPO Kenya, the majority of people rarely think of sanitizing their phones yet they are among electronic gadgets that are capable of accumulating millions of bacteria and viruses. Through its daily campaigns, OPPO is educating phone users on how to sanitize their phones during this time of the Covid-19 pandemic.
Kenya has now reported more than 142 confirmed cases of Covid-19. The government has continued to urge Kenyans to remain cautious and try as much as possible to stop the spread of the virus. The main call among Kenyans is to stay at home, wash your hands, maintain social distance and check out on the well-being of your friends and relatives.
About Post Author