Old Mutual Group Set To Plan 3 Million Trees
Old Mutual Group and its subsidiary, Faulu Microfinance Bank, have committed to planting 3 million trees within the next decade…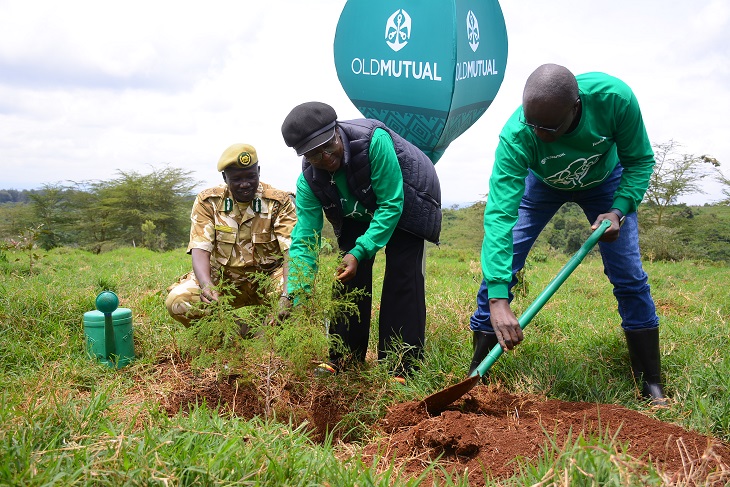 Old Mutual Group and its subsidiary, Faulu Microfinance Bank, have committed to planting 3 million trees within the next decade (by 2033) as part of the company's broader climate action and sustainability strategy.
This year, the Group intends to plant a minimum of 20,000 trees in the Aberdare National Park and monitor their progress, which will contribute to rehabilitating 60 hectares of the park through a partnership with the Kenya Wildlife Service that dates back to 2017.
To date, Old Mutual has planted over 40,000 seedlings covering about 36ha of the park. The park has a significant role in providing water to 80 percent of the Kenyan capital city, including other counties such as Nyeri and Nyandarua, and is also a habitat for wildlife.
Speaking during the tree planting exercise at the park, Old Mutual Group EA CEO Arthur Oginga noted that the move to rehabilitate the park has so far registered an 80 percent success rate, visible through the natural regeneration of the site.
"As a responsible business, we are committed to promoting environmental sustainability and conservation efforts in Kenya. Our partnership with Kenya Wildlife Services to rehabilitate Aberdare National Park is a demonstration of our dedication to creating a better world for future generations. Through this tree planting exercise, we hope to restore the park's ecosystem and preserve its biodiversity, making it a vibrant natural habitat for wildlife and a source of livelihood for surrounding communities." said Mr. Oginga
Old Mutuals' targets are guided by the Group's Climate Change Action Strategy which considers the social and economic implications of initiatives taken, the urgency articulated through the science of climate change, as well as responsibility toward appropriate risk and opportunity management.
Arthur also reiterated that "Old Mutual's response to sustainability is shaped by our core business activities and competencies, the ESG issues impacting our business and stakeholders, and a deep commitment to acting responsibly and treating all stakeholders fairly. Here in East Africa, we aim to achieve our climate action commitments through key areas of action that are in our direct control: reducing the carbon footprint, seeking to invest in a more diverse energy mix, providing products and services, and partnering with key stakeholders to hasten the development of investment-grade climate policy and adaptation strategies".
Speaking during the tree planting exercise, Dickson Ritan, KWS Director of Wildlife and Community Services noted that this partnership is a testament to the power of collaboration in achieving shared goals of a sustainable future for Kenya.
"As partners in this tree-planting exercise, we at KWS are committed to ensuring that these trees are not only planted but are also monitored and maintained to guarantee their long-term survival. We recognize the critical role that these trees play in preserving the environment and conserving our wildlife, and we will work closely with Old Mutual Group and other stakeholders to ensure that they are well taken care of. Through this initiative, we hope to contribute to the rehabilitation of degraded areas within our national parks, and to create a more sustainable future for generations to come." he noted.
Besides having a great impact on the environment, the exercise is set to positively impact Old Mutual's entire business value chain from customers, shareholders communities, and all the countries in which the company has a presence.
Giving her remarks, Old Mutual Foundation Chairperson Susan Omanga said the tree planting exercises are an example of the Foundation's efforts to make a positive impact on the environment and help mitigate the effects of climate change.
"In support of the Old Mutual climate action strategy, the Foundation has framed its environmental pillar to support our carbon offsetting and conservation efforts. Particularly, we are proud to be part of the future-focused leading organizations investing in water tower protection. We hope to leverage this exercise to contribute to the restoration of degraded land, the protection of biodiversity, and the reduction of greenhouse gas emissions. We are proud to be leading this effort and look forward to working with our partners and stakeholders to achieve our goals." said Ms. Omanga.
As part of its broader climate action strategy, Old Mutual has so far planted approximately 200,000 trees not just in the Aberdare Range, but as well in other regions across Kenya.
About Post Author