New Belta And Rumion Car Models Launched In Kenya
CFAO Motors Kenya has introduced the B2C model Belta which offers ''feel-good vibes' 'retailing at 2.83million shillings, and Rumion which…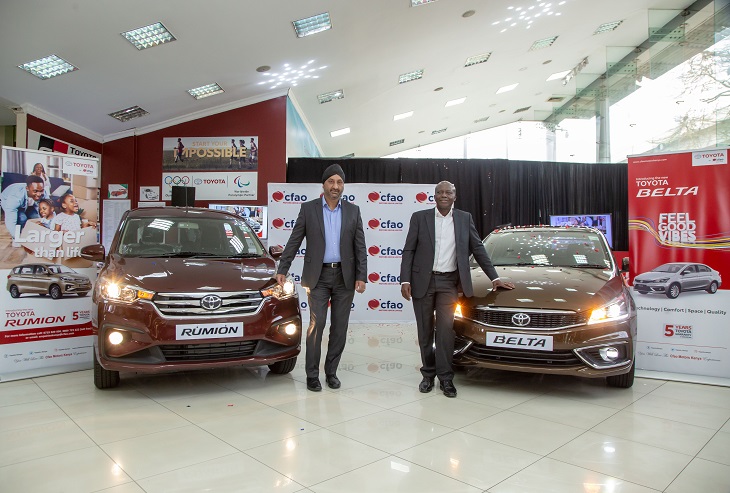 CFAO Motors Kenya has introduced the B2C model Belta which offers ''feel-good vibes' 'retailing at 2.83million shillings, and Rumion which promises a "larger than life'' experience retailing at 2.85million shillings further strengthening Toyota's compact lineup.
The launch is the 1st under the new name CFAO Motors Kenya Ltd. Toyota Kenya Ltd rebranded to CFAO Motors Kenya Ltd, which was approved through a special resolution by shareholders and authorization by the Board of Directors.
CFAO Motors Kenya Limited will continue to remain the exclusive distributor of brand new Toyota vehicles and genuine parts in Kenya as well as exclusively offering the Toyota manufacturer's warranty.
The introduction of the two new models comes at a time when the demand for the popular 1000cc to 1600cc vehicles is on the rise with many motorists looking for affordable and convenient vehicles for everyday use.
''From 2021, B2C models made 20 percent of the overall sales for the brand. We, therefore, are keen on offering the market quality, durable and reliable vehicles for everyday use,'' said Mr. Arvinder Reel, CFAO Motors Kenya Managing Director.
They both come with a 1.5L petrol engine with a maximum output of 77kw/600rpm and maximum torque 138Nm/4400rpm without compromising fuel efficiency. They also come with the latest safety features; dual front airbags, Anti-lock Braking System, and Electronic Brakeforce Distribution.
The seven-seater Toyota Rumion was designed with a family in mind and comes with flexible seating and wide interior dimensions. It has elegant interior thanks to chrome touches, an audio system, and an advanced infotainment color LCD. The front design of the Rumion employs a trapezoidal radiator grille, with the familiar three-horizontal-slat design and centrally mounted Toyota ellipse. The multi-purpose vehicle has a good 180mm ground clearance for a better driver experience.
On the other hand, Toyota BELTA is a comfortable and stylish five-seater sedan that combines design, technology, and comfort. Its sporty and elegant exterior design harmonizes with the refined and spacious interior design.
Toyota BELTA also brings advanced and convenient features with ample luggage space. On the outside, it has a lightweight and highly rigid body, with excellent aerodynamic performance. The interior design features silver and chrome-finished for this class of convenient storage areas.
Speaking at the unveiling ceremony, Mr. Arvinder added, "we are constantly ensuring we respond to consumers' needs. As a result, we have partnered with credible financial institutions to offer up to 95% for the two models. In addition, each unit comes with a five-year warranty or 150,000 Km."
 CFAO Motors Kenya has a network of over 33 branches, authorized dealers, and service centers across the country that ensure consumer vehicles get genuine parts and professional aftersales service for their vehicles.
About Post Author