Moses Kuria Wants 25% Tax Slapped On Mitumba
The Mitumba sector in Kenya is one of the largest employers in a country whose unemployment rate is beyond 35…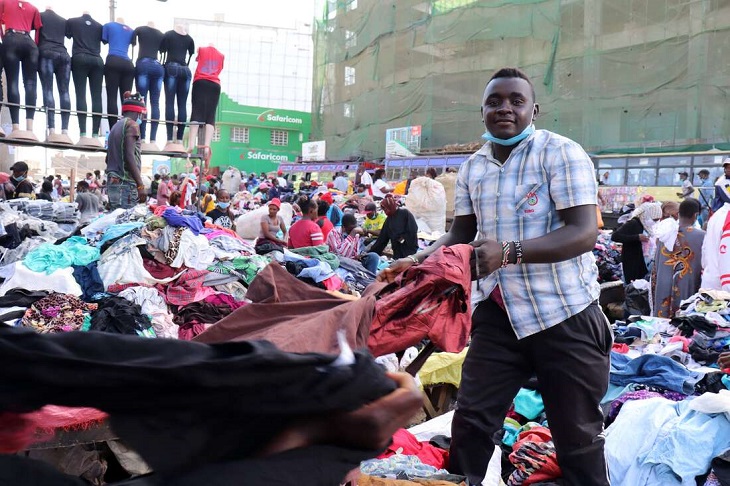 The Mitumba sector in Kenya is one of the largest employers in a country whose unemployment rate is beyond 35 percent. The sector employs at least 2.5 million people directly and at least 20 million indirectly with the majority being in major towns.
The sector is so important that 6.2 million households in Kenya are buying second-hand clothes, an equivalent of 24.2 million people while the population living below the poverty line is 19 million people.
The poor population lives below $ 1.90 per day (2011 PPP). Without the mitumba industry, 24.2 million people, most of whom live below the poverty line, will not be able to buy clothes.
A survey done in 2019 showed that 52,209 households of 102,179 households bought second-hand clothes equivalent to 51 percent of all households every quarter. This means that an average of 6.2 million households out of 12 million households bought second-hand clothes every quarter in 2019.
On Monday, Trade CS Moses Kuria, who has been advocating for the ban of Mitumba, said that in the next Finance Bill, he is going to push for a 25 percent tax on imported clothes to "protect the local textile industry."
"In the next Finance Bill or even earlier, I will propose a new 25 percent levy in imported clothes because the time has come for us to grow our textile sector for the benefit of Kenyans," Moses Kuria said.
Moses Kuria said that imported clothes such as Mitumba should be a luxury and not the main source of clothes for Kenyans. While wearing a shirt that costs 190,000 shillings, Moses Kuria said it was time for Kenyans to buy clothes locally.
Ironically, Moses Kuria is one of the politicians who rushed to Gikomba when Raila Odinga said that Mitumba were clothes won by dead people. Kuria and his battalion rushed to Gikomba and bought oversized underwear in "solidarity with the Mitumba traders."
Immediately he was made CS, he started demanding their heads.
About Post Author