Media Managers Graduates From Aga Khan's Boot Camp
The Aga Khan University Graduate School of Media and Communications (GSMC) has graduated the second cohort of mid-career media managers…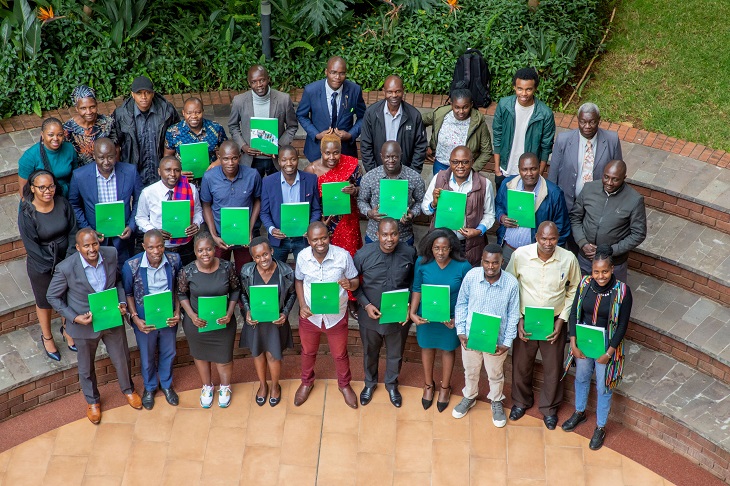 The Aga Khan University Graduate School of Media and Communications (GSMC) has graduated the second cohort of mid-career media managers and media entrepreneurs for the Media Managers Boot Camp, a program aimed at supporting media innovation.
The seven-month training program that is supported by the U.S. Embassy in Nairobi, brought together a diverse group of 20 editors and media managers from mainstream, community, and digital media platforms in Western Kenya. The program exposed them to the fundamentals of media economics, international approaches to media challenges, and new ways of thinking about digital solutions and innovation given the dynamic media environment.
Speaking at the graduation, Professor Nancy Booker, Dean at GSMC reiterated the vital role the U.S. Embassy in Nairobi continues to play in assisting the School to train managers on how to navigate modern-day journalism.
 "Thanks to this program, participants of the boot camp leave with essential tools to help them manage effectively. It has also grown their commitment to consistently seek to understand their teams, their audience, and the business aspects of journalism," she said.
As the media landscape continues to undergo unprecedented transformations driven by technological advancements and changing audience behaviors, the role of media managers has become increasingly pivotal.
In his remarks, the U.S. Embassy's Cultural Affairs Attaché Christopher Machin said "The United States Embassy is pleased to collaborate with GSMC to facilitate this training program. Kenya's media scene is witnessing the emergence of a new generation of innovators leveraging opportunities created by digital transformation. Offering a unique opportunity for U.S. and Kenyan experts to share their experiences and observations, this program equips participants with the skills to become future leaders in a rapidly evolving media industry."
Professor George Nyabuga, Associate Professor at GSMC expressed his gratitude to the Embassy for the support and noted that the programme was in line with GSMC's mission to develop the capacity of journalists. "Participants have learned a lot and I hope that they will use the knowledge and skills to enhance the capacity of their media houses to report accurately, and provide the information and space Kenyans need to articulate issues that affect them and society.
Throughout the program, participants engaged in hands-on learning experiences, group projects, and immersive listening posts. The curriculum emphasized practical application, allowing participants to immediately implement their newfound knowledge and skills in their workplaces.
GSMC was launched in 2015 to be a premier source of education and provide tailored training for journalists, communicators, media executives, and entrepreneurs in East Africa and beyond. The School is part of the University's heritage especially as AKU celebrates 40 years since receiving a Charter from the Government of Pakistan.
About Post Author