Aga Khan University Hospitals Opens A Specialty Outlet In Karen
The Aga Khan University Hospital, Nairobi (AKUH, N) has opened a new Speciality and Executive Clinic in Karen, as part…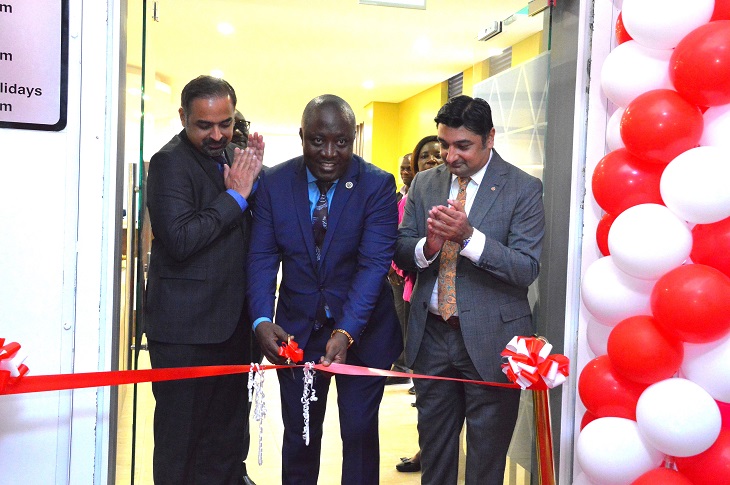 The Aga Khan University Hospital, Nairobi (AKUH, N) has opened a new Speciality and Executive Clinic in Karen, as part of its strategy to increase access to specialized care.
The Karen Speciality and Executive Clinic becomes the hospital's 52nd Outreach Medical Centre. The Clinic will offer specialized clinics in cardiology, nephrology, pediatrics, dermatology, obstetrics and gynecology, family medicine, and ENT, among others.
The Clinic will run a one-stop Cardiac Care Centre with critical tests such as Exercise Stress tests, Echo, and ECG among others. It will also have an executive wellness program supported by key diagnostic services including X-ray, Ultrasound, Mammography, and a well-equipped laboratory.
Speaking during the official opening ceremony, Hospital CEO, Rashid Khalani said that the clinic is part of the hospital's strategy of taking specialized services to where people live and work.
"Three years ago, we began implementing a new strategy of running specialist clinics at our outreach centers which previously only offered primary care. The clinics are run by our specialists from the main hospital, ensuring that the same quality of care offered at the main hospital is available in the neighborhoods," he said.
The Karen Clinic comes hot on the heels of the opening of the Roysambu Specialty Care Centre which in addition to specialized clinics also provides day surgeries, dialysis, chemotherapy, and endoscopy.
"Increasing access to quality care is part of our values and guided by that we intend to open many more centers in years to come," added Mr Khalani.
Nairobi County Governor, H.E Johnson Sakaja who was the Chief Guest at the opening ceremony said that his Government will work with private healthcare institutions to increase access to quality healthcare services.
"As the County Government, we continue to give you and other players in this sector every support that you need. My Administration took office determined to dignify the lives of the people of Nairobi. Few things are more important for a life of dignity than health. That is why we are working closely with the 7,500 community health workers to meet the people of Nairobi where they are. Nairobi County is the first county to pay its community workers every month," said Governor H.E. Johnson Sakaja in a speech read on his behalf by Nairobi County Secretary Patrick Analo.
AKUH, N operates 49 medical centers in Kenya and three in Uganda, treating almost 700,000 patients annually. A teaching hospital of the Aga Khan University, it is a center for advanced training programs in oncology, neurology, cardiology, infectious diseases, neonatology, and nuclear medicine. As an institution of knowledge, the hospital supports the university's academic programs.
About Post Author