Kenya Donates Food To Somalia As Kenyans Die
More than 30 counties in Kenya are facing an acute drought. Hunger and thirst are ravaging these counties with people…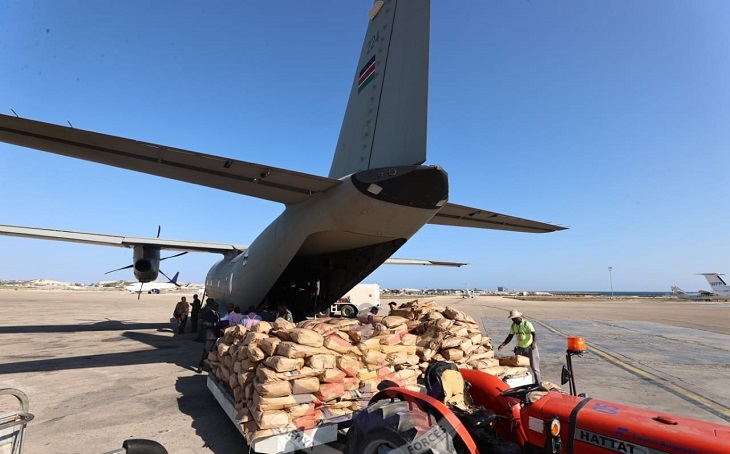 More than 30 counties in Kenya are facing an acute drought. Hunger and thirst are ravaging these counties with people only hanging on a thread of hope to survive. Stats show that at least 4.5 million Kenyans are in urgent need of food.
In the counties of Kajiado, the situation is so dire that farmers are selling a whole cow at 500 shillings and a goat at 100 shillings. Four months ago, the same cow was 20,000 shillings and the goat 6,000 shillings. People are suffering and have no hope.
Last week, the government indicated that it required at least 2 billion shillings to feed the hungry Kenyans. Deputy President Rigath Gachagua, went ahead to appeal to Kenyans of goodwill to help contribute so that the government can get the money.
One would, therefore, expect the government of Kenya to do everything possible to feed its people who are dying of hunger. But, shock unto us. The government dispatched military choppers to fly food and medicine to Somalia, to help the Somalis.
According to the statement posted on the Kenya Defence Forces Twitter handle, the food and medicine to Somalia were to help them after they were hit by a series of "terror attacks." But no military has been dispatched to send food to Kenyans.
It is good to help neighbors. It is good that our neighbors do not die of hunger. But what is the point of saving the neighbors when back home, we need the same food and medicine more than the people we are helping.
The truth is, Somalia has more international aid than Kenya. There will be more nations willing to help them with food and medicine than Kenya. But we had to be the "big brother" as always, helping them live as our people die back home.
Dear Mr. President, so, what next?
About Post Author