Here Is What The New Toyota Starlet Is Coming With
Toyota Kenya launched the all-new Toyota Starlet in the Kenyan market bringing everything one would expect from a compact hatchback:…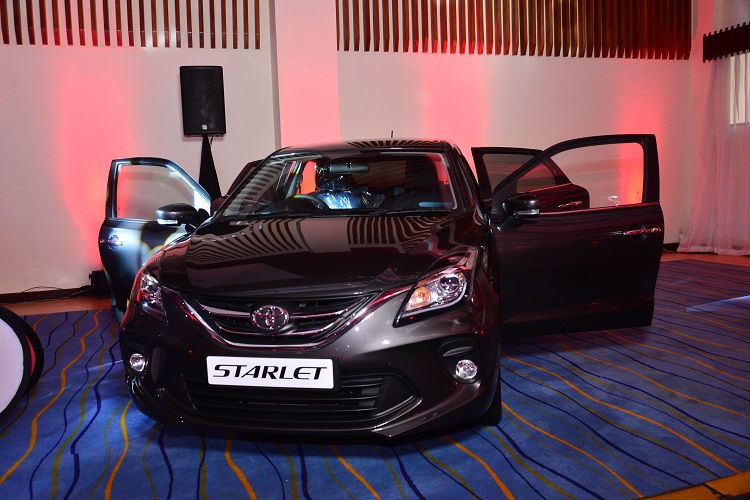 Toyota Kenya launched the all-new Toyota Starlet in the Kenyan market bringing everything one would expect from a compact hatchback: an ideal size to drive everywhere with agility selling at 1,980,000 shillings.
Toyota Starlet lands in Kenya with a wide and low silhouette that offers more stability at high speed with high ground clearance. For those worried about how the car can maneuver agile turns, it comes with a turning radius of 4.9 m to help one make turns even in congested places.
The exterior comes with increased safety with dynamically designed outside rear-view mirrors with integrated indicators. The headlamps are clear and refreshing creating more visibility while on the road at night.
"The primal thought for the planning and the creation of this new model was to produce a car that conforms to what customers expect. This is why Toyota Starlet designed to meet the increased demand for high-economy vehicles with exceptional driving characteristics in the common size of 1000 to 1600cc," said Toyota Kenya Managing Director Arvinder Reel.
Once inside the new Toyota Starlet, you may not want to get out of it. It has an amazing dashboard that gives the interior a classy look. The steering wheel is adjustable with a 190 mm front legroom that gives one a perfect driving position and experience throughout the journey. The rear row of seats folds down with no effort leaving plenty of room for a large load, as well as giving space for passengers who also get to enjoy a legroom of 200 mm.
The vehicle comes with a 1.4 L petrol engine that delivers both power and fuel efficiency. The intake VVT, cylinder head, and piston crowns are designed to boost thermal efficiency and fuel economy.
Those who buy the new Toyota Starlet will have the advantage of enjoying Toyota's quality service and low maintenance cost from Toyota's dedicated and fully-fledged spare-parts and after-sales facilities that offer exemplary service. What more, customers will also get a 3-year-warranty upon buying the Toyota Starlet.
"With Toyota's expanded network that has 31 outlets of branches and Toyota Authorized Service Centers with professionally trained personnel, the new Toyota Starlet owners should look forward to accessible and efficient first-class service," said Mr. Reel.
Financing for this amazing Toyota Starlet is available through major financial institutions in Kenya.
About Post Author