Facing Mt. Kenya To Raise Awareness On Water
Xylem Kenya recently climbed Africa's second-highest peak, Mt. Kenya, to raise awareness for water and climate challenges in East Africa.…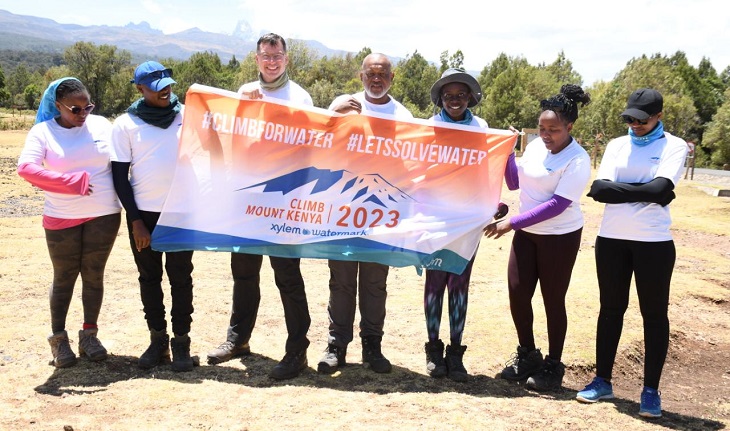 Xylem Kenya recently climbed Africa's second-highest peak, Mt. Kenya, to raise awareness for water and climate challenges in East Africa. The six-day climb was not just a team-building adventure but a purposeful climb to highlight the company's commitment to delivering leading solutions to the region.
Xylem Kenya, which opened its office over a year ago, provides sustainable ongoing support to communities through its global CSI program, Watermark.
The program is focused on dedicating time and resources to uplift communities through sustainable programs such as water education, local clean-ups, and improving urban gardens that feed their communities.
Last year, Xylem Kenya donated $7000 to Drive Inn Primary School in Nairobi, which supported the rehabilitation of the school's water and sanitation systems. In addition, the company donated a children's book called "Splash the Incredible Water Wiz" to the school to educate young learners on the importance of water.
The climb was a special moment for the Xylem Kenya team, as they spent six days strengthening their connections as a team and discussing the key areas in which they plan to help solve water for Kenya.
The team also discussed the growing water demand and water scarcity in the country, which has turned into a notable challenge. Climate change, population growth, urbanization, water pollution, and poor management of water resources have aggravated the issue of the water crisis, which affects economic activities, food security, education, and health.
Xylem Kenya's vision is to solve global water problems, and everyone deserves access to clean water. It boosts food security, hygiene, and many other development needs. The company's leadership places sustainability as a crucial part of its success, reflected in its progress on self-imposed sustainability benchmarks such as reducing Xylem's carbon footprint and improving water efficiency.
Xylem Kenya's climb up Mt. Kenya was not just a climb, but a call to action to help solve the water crisis in East Africa and across the world. The company is excited to do more to raise awareness for water and climate change as they strive to make a real Water Mark and bring access to clean water closer to all people in the region.
About Post Author