Xylem Donates USD 7,000 To Drive Inn Primary That Has 1,400 Students
International water solutions provider Xylem, through their corporate social investment arm Xylem Watermark, hosted a cleanup event at Drive Inn…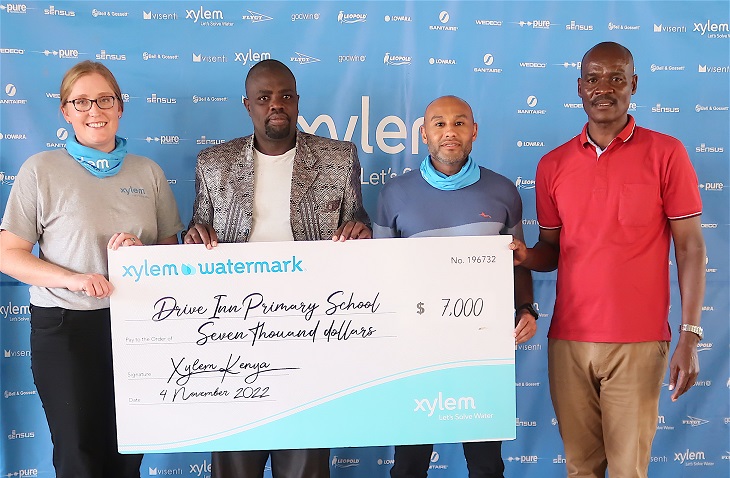 International water solutions provider Xylem, through their corporate social investment arm Xylem Watermark, hosted a cleanup event at Drive Inn Primary School (Ruaraka) and donated $7000 (Ksh850,000). The funds will go towards rehabilitating the school's water and sanitation systems.
The Drive Inn Primary School in Ruaraka, Nairobi, provides a perfect example. This public primary day school which serves more than 1,400 students, is led by 24 teachers.
Utilizing 24 classrooms and offering access to over two-dozen toilets and basins, the Drive Inn school is a vital part of the local community and the future of its students.
"At Xylem, water is what we do, and our sustainability is a core element of our business strategy," said Austin Alexander, Xylem's Vice President of Sustainability and Social Impact.
"We think of sustainability as a holistic approach including both the long-term social and environmental impacts. This means not only providing the best water technology today but also inspiring and enabling the next generation to continue the work. Kenya is a core focus for us and the center of our East African presence, including our social impact innovation work. We are honored to work with Drive Inn school to support their efforts in creating safe access to water and support these students so they can grow to solve the next generation's greatest challenges," she added.
Austin was joined by Gassan Mutwali, Senior Director of Essence of Life.
Xylem is exploring how to further leverage its global footprint and scale to access and accelerate technology to advance SDG6 in the region. Xylem has extensive experience bringing new technology to market in the water and sanitation space and looks to find further partnerships in the region.
As the leading provider of pure-water technologies and solutions, Xylem works with stakeholders worldwide to ensure that clean and reliable water is sustainably available to countries and communities. Watermark, Xylem's corporate social investment arm, leads this ambition into non-commercial areas, leveraging Xylem's expertise and reach, resources, and an army of volunteers to make lasting changes on the ground.
About Post Author