Co-op Bank's Profits Jump 56% In 3 Months To March
Co-op Bank Group is pleased to report a Profit Before Tax of 7.78 billion shillings for the first quarter of…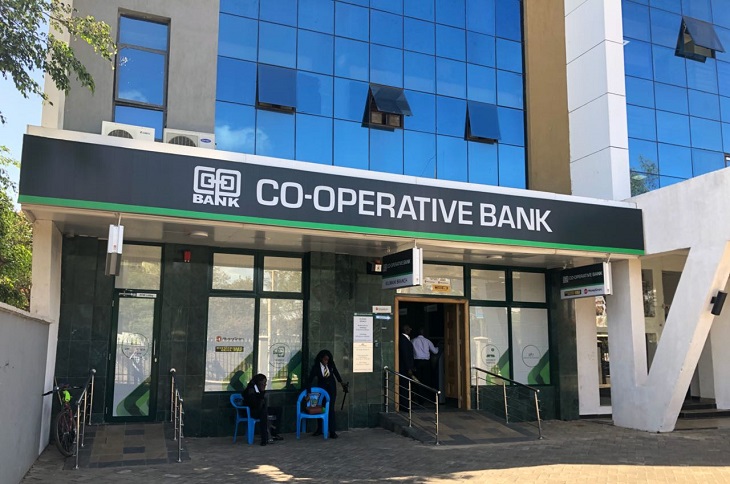 Co-op Bank Group is pleased to report a Profit Before Tax of 7.78 billion shillings for the first quarter of 2022, a commendable 56 percent growth compared to 4.98 Billion shillings recorded in the first quarter of 2021.
This represents a strong Profit after Tax of 5.8 billion shillings compared to 3.5 billion reported in 2021. The performance delivers a competitive Return on Equity of 23.8 percent to our shareholders.
Total Assets grew to 597.0 billion shillings, a +8 percent growth from 552.9 billion shillings in the same period last year. Net loans and advances grew to 324.5 billion shillings, a +9 percent growth from 298.2 billion shillings.
Investment in Government securities grew to 183.4 billion, a +10 percent rise from 166.2 Billion in 2021. Customer deposits grew to 410.8 billion, a +4 percent increase from 393.8 billion. External funds from development partners stood at 43.3 billion from 46.9 billion in 2021.
At the same time, shareholders' funds grew to 102.7 billion, a +10 percent increase from 93.7 billion in 2021 enabling us to continue pitching for big-ticket deals.
The Gross Non-Performing Loan (NPL) Book has reduced by 5 percent from last year, with the NPL ratio improving to 13.3 percent against 15.2 percent in a similar period last year.
"Through our digital channel strategy, the Bank has successfully moved 94 percent of all customer transactions to alternative delivery channels and expanded 24-hour contact center, mobile banking, 541 ATMs, internet banking, and over 27,000 Co-op Kwa Jirani agency banking terminals.
"We have successfully migrated our customers to the Omni-channel, integrating accessibility and user experience. Our omnichannel interfaces online banking through personal computers, mobile phones, and USSD availing our services to all customers through their preferred channel yet retaining the same experience from wherever they are," said Co-op in a statement.
A successful Universal Banking model and the implementation of SalesForce Effectiveness have seen the Group serve 9 million Account holders across all sectors. The all-telco Mco-op Cash Mobile Wallet continues to play a pivotal role in the growth of non-funded income with 5 Million customers registered and loans worth Kshs 19.9 Billion disbursed year-to-date, averaging over Kshs. 6.6 Billion per month.
Over 151,500 customers have taken up the MSME packages that we rolled out in 2018, and 23,363 have been trained in business management skills. Year to date, we have disbursed 4.3 Billion to MSMEs through our Mobile E-Credit solution. MSMEs are a critical part of economic recovery post-covid and contribute up to 16 percent of our total Loan Book.
At the same time, Co-op Consultancy & Bancassurance Intermediary Ltd posted a Profit Before Tax of Kshs 316.9 Million as of 31st March 2022, riding on strong penetration of the Bancassurance business.
The Co-operative Bank of South Sudan which is a unique joint venture (JV) partnership with the Government of South Sudan (Co-op Bank 51% and GOSS 49%) returned a profit of Kshs 43.9 Million in Q12022 compared to a loss of Kshs 89.1 million in Q12021.
The Co-op Trust Investment Services contributed 53.7 Million in Profit Before Tax in Q12022, with Funds Under the Management of Kshs. 190.2 Billion compared to Kshs. 128.4 Billion in March 2021.
Kingdom Bank Limited (A Niche MSME Bank) has contributed a Profit Before Tax of 199.3 Million in Q12022 compared to Kshs. 126.7 Million was reported last year representing a 57 percent growth year on year.
About Post Author