BOC Kenya Calls On Kenyans To Return Empty Cylinders To Save Lives
The Cabinet Secretary for Health, Mutahi Kagwe, on Monday, while briefing the nation on the status of COVID-19, made a…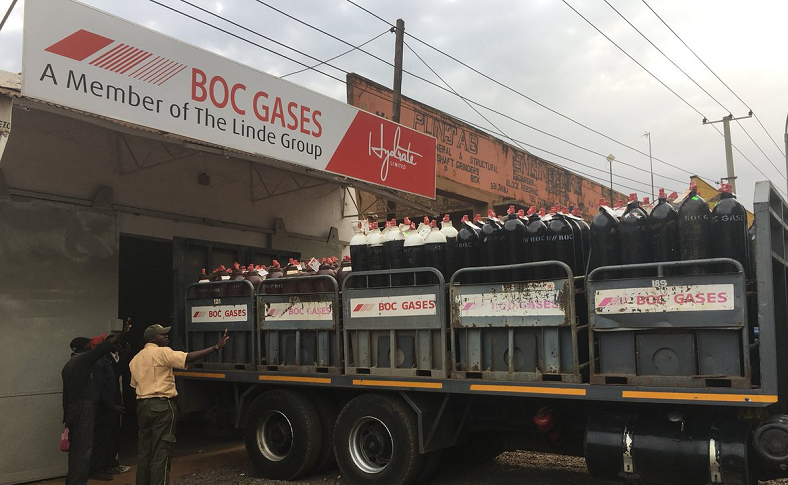 The Cabinet Secretary for Health, Mutahi Kagwe, on Monday, while briefing the nation on the status of COVID-19, made a passionate appeal for Kenyans to return cylinders to manufacturers to help stem a looming crisis.
He made a shocking revelation that cylinders are being hoarded and illegally refilled across the country which means that the cylinder pool is being depleted daily. Oxygen is critical in the management of COVID-19.
The CS said more than 20,000 Oxygen cylinders are in the hands of Kenyans and made a humble appeal that they are returned to enable the frontline workers to save lives of COVID-19 patients and avoid preventable deaths.
"I wish to appeal to those holding cylinders be they hospital facilities or individuals in other sectors, please return those cylinders to manufacturers so they can refill and use them in hospitals that need that them," said the CS.
BOC Kenya, the leading supplier of industrial, medical, and special gases in East Africa, has joined the Ministry of Health calling on Kenyans to return all idle and unused cylinders to help save lives and fight the pandemic.
"Return idle and unused cylinders and save a life. Oxygen is critical in the management of COVID-19. So, please, do not hoard cylinders and do not refill them illegally," said the company in a statement.
Before the coming of Covid-19, the market demand for Oxygen in Kenya was 410 tons. By mid-2020, the demand had gone up to 560 tons, and currently, the demand is 880 tons, more than double the demand at the same period last year.
"This demand has come up with other challenges, namely efficiency in the distribution of oxygen gas cylinders brought about by hoarding or diversion of cylinders for other uses," BOC added. We are running our plant and distribution systems 24hours, 7 days a week.
Overall, there are 73 oxygen plants in both h national & county facilities across the country. Majority of these services one to three units within a facility. There are also about 20,000 concentrators in various health facilities that can be brought back to service to support the efforts of hospitals in the care for patients. Some of these plants and concentrators face several challenges including reliability and the production of oxygen with lower than recommended concentration levels.
About Post Author