Air Direct Kicks Off Maintenance Of Sudan's Bombardier CRJ100
Air Direct Connect has begun maintaining Sudan's Alfa Airlines fleet of Bombardier CRJ100 aircraft. Air Direct Connect is maintaining Alfa…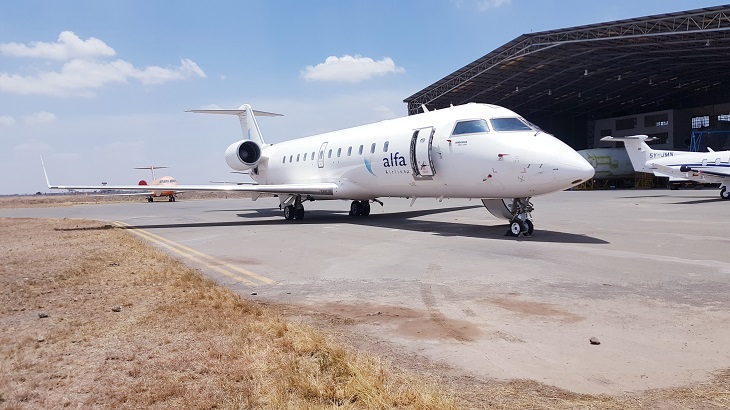 Air Direct Connect has begun maintaining Sudan's Alfa Airlines fleet of Bombardier CRJ100 aircraft.
Air Direct Connect is maintaining Alfa Airlines' Bombardier CRJ100 aircraft, at its hangar located at the Jomo Kenyatta International Airport, following clearance by the Sudan Civil Aviation Authority.
"Air Direct Connect is delighted to announce that it has obtained approval from the Sudan Civil Aviation Authority to provide aircraft maintenance services for Sudanese air operators. The approval comes after successfully passing a series of rigorous audits, reflecting our unwavering commitment to meeting and exceeding global safety and quality standards in the aviation industry," said NBV Plc CEO Haresh Soni.
Mr. Soni added that the agreement with Alfa Airlines will allow the carrier to focus on its core business of providing safe and efficient air transportation in Sudan, while Air Direct Connect will handle the maintenance.
"We have the expertise to provide quality service to Alfa Airlines and other commercial airlines necessary for them to improve efficiency and reduce downtime."
Maintenance of Alfa Airline's fleet is an important step for Air Direct Connect in its commitment to providing the highest level of maintenance service to its clients, locally, regionally, and globally.
Air Direct Connect has additionally signed similar maintenance agreements with Phoenix Aviation, Everett Aviation, Passion Air, AVMAX, Congo Airways, Halla Aviation, Safe Air Company, Astral Aviation, Freedom Air Express, Skyline AMO, and Prime Aviation Ltd.
About Post Author