Absa Bank Signs Ksh 1.26 Billion Financing Deal For Smart Agriculture
Absa Bank Kenya PLC and the eco.business Fund, an impact fund, has announced a 1.26 billion-shilling partnership for the bank…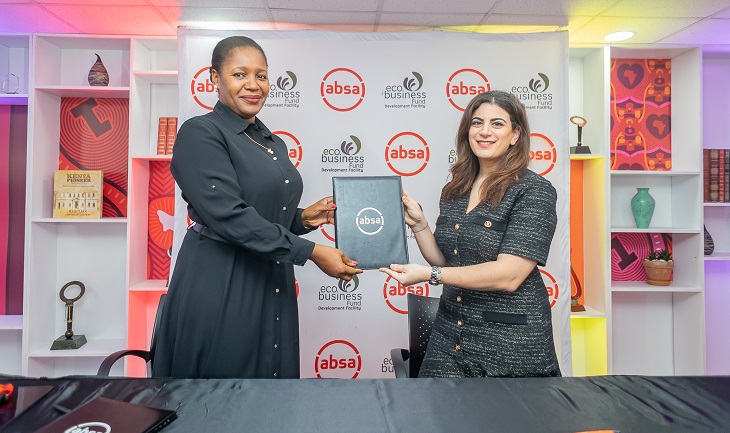 Absa Bank Kenya PLC and the eco.business Fund, an impact fund, has announced a 1.26 billion-shilling partnership for the bank to on-lend to domestic and export businesses participating in the country's agricultural value chains.
The funding line is expected to improve resource efficiency, increase food security, and mitigate the effects of climate change in the agricultural sector.
As part of the collaboration, the two organizations will work to improve the availability and quality of funding dedicated to agricultural value chains, as well as to promote sustainable practices across the sector.
Michael Evers, the eco.business Fund Board of Directors chairperson said: "Supporting sustainable and climate-resilient agricultural practices and strengthening local value chains are some of the fund's top priorities. Our investment will contribute towards equipping various value chain actors in Kenya including agricultural producers, aggregators, processors, and exporters."
Kenya's agriculture sector is a major contributor to the economy, accounting for roughly 50% of GDP (including linkages), 60% of export revenues, and 40% of the workforce. However, the sector is confronted with macroeconomic and climate-related challenges, resulting in stagnant yields and contributing to food insecurity.
The lack of market access opportunities increased post-harvest losses, and unstructured value chains add to the burden on value chain actors. Compounded by this, there is a high financial and technical threshold required to implement climate-smart agriculture practices that ensure natural resource efficiency, biodiversity conservation, and climate change mitigation.
On her part, Absa Bank's Business Banking Director Elizabeth Wasunna said: "As a bank, we are fully cognizant of the immense contribution that agriculture makes to Kenya's economy as the country's economic mainstay and hence our collaboration with such like-minded partners towards the continuous growth and development of the sector."
She added: "We have embedded agribusiness as one of the growth pillars in our overall business strategy. As such, we take a value chain approach, actively providing solutions for input providers, primary producers, aggregators, and agro-industry players. This partnership complements our four-pronged approach of access to markets, access to information, access to mentorship and coaching, and access to sustainable finance."
About Post Author