Abdi Mohamed Says Absa Will Go Ham On SME Support
Newly appointed Absa Bank Kenya Managing Director and Chief Executive Officer, Abdi Mohamed stepped out into the bustling Kawangware and…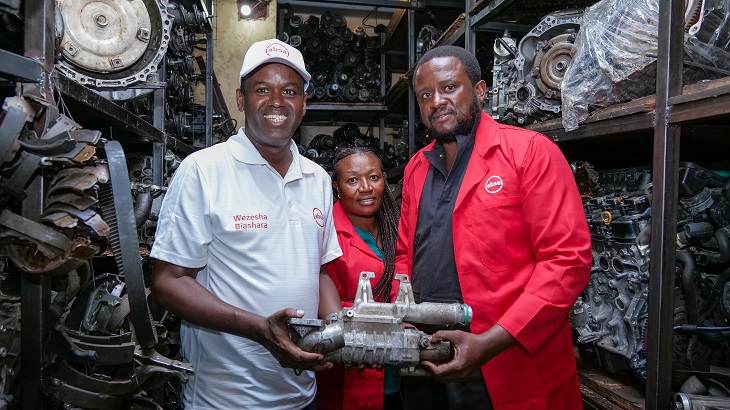 Newly appointed Absa Bank Kenya Managing Director and Chief Executive Officer, Abdi Mohamed stepped out into the bustling Kawangware and Dagoretti markets to meet customers in a show of the bank's unwavering commitment to the growth and development of Small and Micro Enterprises in Kenya.
During his inaugural market visit, Absa Bank Kenya's MD reaffirmed the bank's SME growth agenda and expressed the bank's commitment to continue supporting them to bring their possibilities to life, thereby furthering the development and prosperity of Kenya and its people.
He said: "Small and medium enterprises are the economic bedrock of Kenya's economy, contributing approximately 50% of GDP and more than 80% of employment. My market visit today is a demonstration of our commitment as Absa to support the SME sector with targeted propositions that are relevant and responsive to emerging customer needs and expectations through financing and non-financial support."
During the market visit, the bank's SME customers expressed their gratitude to Absa for its continued support of their businesses and highlighted key areas in which they require additional support. On his part, Absa Bank Kenya's MD assured them that Absa fully understands their needs and is committed to providing them with the support they require to keep their businesses running smoothly.
"As a partner for growth, we are constantly innovating our solutions to help SMEs grow to the next level. Hence, we have adopted a four-pronged approach that encompasses access to markets, access to information, access to mentorship and coaching, and access to sustainable finance, as part of ongoing efforts to address the perennial challenges that affect our SMEs," said Mr. Mohamed.
In 2022, Absa Bank Kenya PLC extended KES 148 billion of new lending to the economy, reflecting an increase of 36% from 2021, most of which was towards businesses leading to economic recovery and transformation.
Absa has also held county business forums over the last 2 years, which have reached more than 10,000 SMEs across the country and facilitated access to finance, markets, mentorship as well as networking opportunities.
Absa Bank Kenya's ambition to support SMEs is aligned with the priorities of the government in supporting the SME segment to fuel growth and create employment opportunities for young people. The bank also aims to impact one million women entrepreneurs over the next five years to support their aspirations through its SHE Business proposition.
These efforts are in line with Absa's commitment to Kenya and her people through its purpose of empowering Africa's tomorrow, together… one story at a time by working with people to get things done.
About Post Author