Many people would be surprised to know that the most common disease in the world today is oral disease. Dental caries, also known as tooth decay or dental cavities, is the most common untreated disease in the globe, affecting as many as 2 billion people, according to data from the World Health Organization (WHO)
This condition along with other oral diseases is largely overlooked, despite the impact oral diseases have on victims, their families, and society. Experts agree that oral health is overlooked largely because of a lack of awareness.
As the world marks World Oral Health Day for 2022 (marked annually on March 20), here are five interesting facts from the Wrigley Oral Healthcare Program, run by Mars Wrigley, that will change how you think about oral health.
Did you know neglecting your children's oral health can affect their education, relationships, and more?
The World Health Organization (WHO) notes that tooth decay affects 60-90% of school children. It can affect the little one's confidence, ability to socialize, self -esteem and the quality of education received. Good oral health not only enables you to functionally perform as a human being (speaking, smiling, smelling, eating) but is also important for communication and human relationships.

It's important to make brushing fun for your kids
Kids copy their parents when it comes to good oral health! Help protect your kids' smiles by brushing twice a day. Brushing your teeth twice a day is a vital way of maintaining good oral hygiene. Twice a day can feel like a long time for your little one, so find fun ways to keep them occupied while brushing. Here are five ways you can make toothbrushing more FUN for your kids.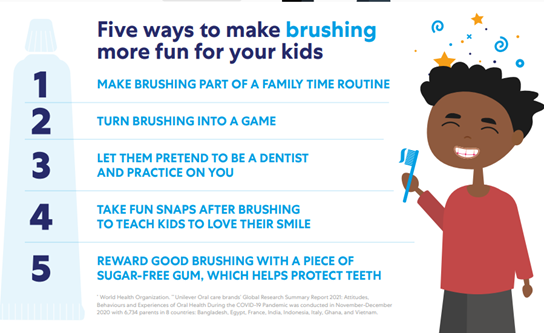 Good oral health does not end with proper tooth brushing
The temptation to believe good oral health ends with proper tooth brushing and flossing is understandable. This is, however, not the case. Other factors, including diet, frequency of dental visits, among others, can impact your oral health as well.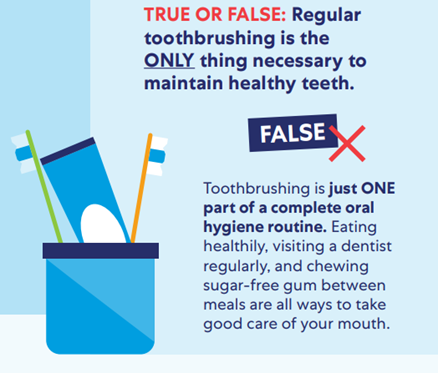 When it comes to snacking, be an educated consumer
Did you know that chewing sugar-free gum helps prevent tooth decay?  Most people chew gum for a reason – to freshen breath before an important meeting, to burn up some nervous energy, or just because they like the taste. Few realize there's extensive good science backing up the benefits of chewing sugar-free gum.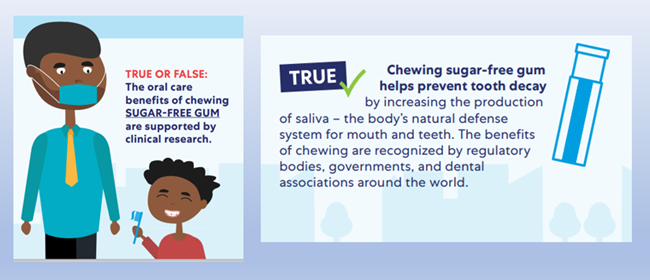 Understand the science behind sugar-free gum
In today's busy world, people are often snacking throughout the day or eating at irregular times – and often on the go. Modern eating habits mean teeth are more frequently exposed to the acid produced after eating, increasing the risk of tooth decay. This is where sugar-free gum can play a key role in protecting teeth. But what's the science behind sugar-free gum?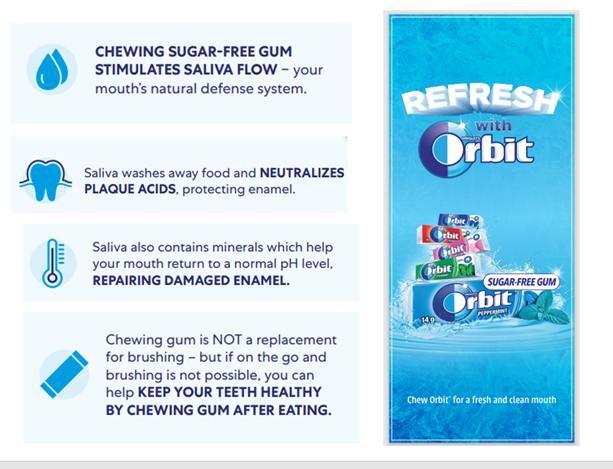 Commenting on the data and its relevance for Kenyans, Dr. Tim Theuri, Kenya Dental Association (KDA) President, noted that the main responsibility lies with parents to put good oral healthcare habits and facts to good use. "Maintaining good oral health is largely about adopting good habits. Parents need to act as good role models for their children. That's the theme for this year's World Oral Health Day," he said.
Dr. Theuri added that in Kenya and other low- and middle-income countries, there was still a challenge of accessing dental care among the poor.  Treatment for oral health conditions is expensive and usually not part of universal health coverage (UHC).
"At the Kenya Dental Association (KDA), we have built a tradition over the past decade of regularly reaching out to underserved communities in rural Kenya and informal urban settlements. We do this in partnership with partners such as Unilever and Mars Wrigley, through their Wrigley Oral Healthcare Program and the Mars Wrigley Foundation," said Dr. Theuri.
Dr. Theuri noted that as part of their outreach to low-income communities, KDA dentists, officers, and volunteers this March concluded a week-long mobile dental clinic in Lamu to mark World Oral Health Day. "We screened more than 560 people (adults and children) in the regions of Mpeketoni, Shela, and Faza, conducting procedures on 337 of them.  We had two medical officers all through as well as pharmaceutical technologists to help dispense drugs," he concluded.