210 Filmmakers Trained By MultiChoice Talent Factory
MultiChoice Talent Factory and Kenya Film Commission (KFC) has trained over 200 filmmakers in sound over two-days at a training…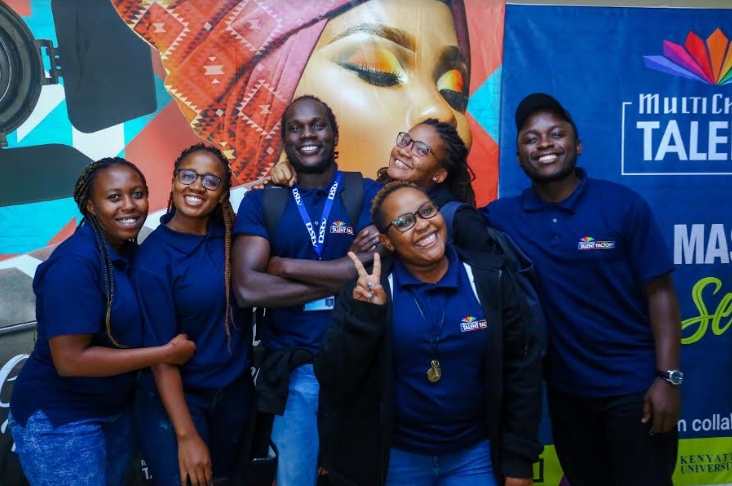 MultiChoice Talent Factory and Kenya Film Commission (KFC) has trained over 200 filmmakers in sound over two-days at a training facilitated by DOLBY Laboratories Inc.
Dolby creates audio, visual, voice technologies for cinemas, home theatres, computers, mobile devices, and games. The masterclass was attended by film and TV producers, directors, engineers, writers, cameramen, editors to enhance their skills in production and post-production sound.
MTF and DOLBY partnered to develop technical skills of locally established sound engineers and teach local producers how to design the sound in films and TV productions to internationally accepted standards.
Timothy Owase, CEO of the Kenya Film Commission said, "The Kenyan film industry is ripe for growth. Masterclasses such as this one are critical in fixing existing gaps within the local film industry. Sound is a specialization and there is a lot of demand on Kenyan films and African productions to produce quality and authentic African sounds to accompany our rich cinematography and sites. The role of sound cannot be underplayed when we talk about a vibrant local film and audio-visual production industry.
20 MultiChoice Talent Factory students were part of the 210 sound engineers and producers from various radio, television, and film production outfits who were taken through an interactive sound session focusing on the importance of sound as an artistic part of film and music.
Areas tackled included Surround Sound Design for Film, Selection and positioning microphones in sound design, adding interest, creating texture in Audio Recording, post-production sound editing, designing and planning for sound in productions. The Masterclass not only addresses technical skills gaps but also gives insight into contemporary issues faced by emerging filmmakers on the continent and across the globe.
Njoki Muhoho, MTF East Africa Academy Director observed, "Kenyan productions have for a long time produced very good stories with sub-par sound quality. Sound is an extremely integral part of any film as it carried the viewers and listeners through the emotions and highly supports cinematography in telling stories. Sound producers and engineers are therefore an essential part of the production team and just as important in getting any film to the international awards stage. This Masterclass on sound is therefore important for sound experts to gain insights into producing films for Bollywood and Hollywood. Kenyan films have the capacity to be counted among the stars, only if technical standards are at an internationally acclaimed level."
The DOLBY Sound Masterclassesbrought together the best in the local TV, film and production industry and was led by a well-respected and reputable sound consultant from Dolby India Vikram Joglekar and Quinton Schmidt.
"We strive to empower content creators and storytellers in Africa through these Masterclasses to enable them to become more effective in their craft and inspire audiences and listeners through good quality sound. The critical role of sound often becomes clear to many producers' post-edit when not much can be changed, even though the sound is the main communication tool for any production. Advance sound technologies will enhance production at all levels but only if the user is well skilled to weave these into their productions to come up with world-class productions," said Vikram Joglekar.
Vikram Joglekar has over 30 years' experience working in the field of audio production and post-production for cinema and broadcast. He has extensive knowledge of sound production and in his current role at Dolby, he works with broadcasters in India and South East Asia helping them to tell their stories with better quality sound using Dolby Technologies.
Quinton Schmidt has worked in the broadcast industry for more than 20 years with experience in Broadcast Operations and Technology management ranging from signal contribution, content creation, and quality control. His key focus at Dolby is working with broadcasters and content creators in the adoption of Dolby technologies throughout the African Region.
The MTF Masterclasses is a professional series of training sessions open to industry professionals with a focus on scaling up production within the local industry.
The Masterclasses are conducted by leading African and international film and TV production experts from across the globe. The MTF Masterclass series is just one of the ways MultiChoice is using its influence to play a positive role in Africa by supporting the growth of Africa's creative industries into sustainable, vibrant, economic hubs.

About Post Author