Zetech University Awards Key Kenyan Sport Talents
Veteran Kenyan National Football Team and Women's premier league side Gaspo FC coach Jacob 'ghost' Mulee, Kenya Footballers Welfare Association…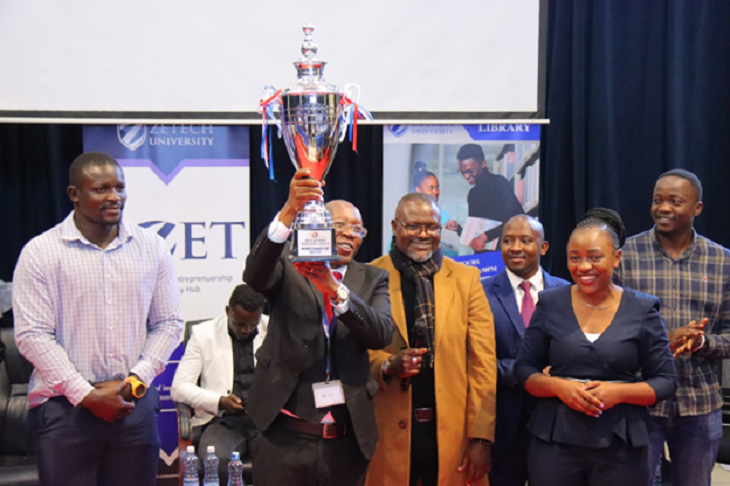 Veteran Kenyan National Football Team and Women's premier league side Gaspo FC coach Jacob 'ghost' Mulee, Kenya Footballers Welfare Association (KEFWA) Chair James Situma, former Kenya Sevens star and KCB RFC head coach Andrew Amonde, Kenya Morans Head coach Hanset Wafula and National Team player Clifton Miheso were among the long list of guests who graced the Zetech University Sports Awards Luncheon at their Thika Road Campus in Ruiru on Thursday, 20th June 2023
Speaking during the gala organized to celebrate the achievements of the University's teams over the past season, Mulee lauded their management for the continued support of sporting talent through their Sports Scholarship Programme. "Sports is currently the highest paying job in the world. It is a privilege to get a sports scholarship in a university such as Zetech because it is a God-given talent." He cemented
The event saw the Zetech Sparks Basketball team, runners-up in the concluded Kenya basketball federation women's premier league and who will represent the country in Kigali, Rwanda at the Africa Basketball Championships, feted for their achievement by GRIA Insurance who offered to be their shirt sponsors for the upcoming season.
KCB RFC head coach Andrew Amonde highlighted that although sometimes the sportsmen offer more to the sport than it offers back, young people had a chance to break through in the industry with proper mentorship and facilities such as the ones Zetech University provides. He also praised the recently promoted Zetech Oaks Rugby team that emerged winners in the Driftwood sevens Division Two pooling.
On his part, Kenya Footballers Welfare Association (KEFWA) chair James Situma emphasized the importance of discipline in the success of any player. "Winning in any sport is a process that takes time and is not instant" he stated, adding that stardom only lasts for a short time and players need a solid educational grounding to prosper.
The Vice-Chancellor Prof. Njenga Munene lauded the Sports Scholarship Programme, noting that the University commits Sh10 million every year to educate needy but talented students. He urged the sponsored students to ensure they remain committed to their studies and excel in both field and class for their posterity.
The Zetech Sparks football team resumes its fight for the Kenya women's premier league in August while its Basketball counterpart will be challenging for the women's basketball title, with notable players such as Puren Anyetu, Madina Okot, and Mary Lisa receiving call-ups to the national teams.
About Post Author