Justice is like a double-edged sword that cuts on both sides. Justice is best served while it is still hot. It is the only tool that speaks for the voiceless and humbles the mighty.
A Dean at the ailing Catholic University of East Africa (CUEA), Mr. Samuel Nderitu Wakanyua, suffered another setback in his quest to have the High Court stop his prosecution in a case where he is charged with assault.
Mr. Wakanyua assaulted Dr. Rosa Ko, who was then a senior lecturer in political science at CUEA on October 3, 2018, something he has consistently denied despite medical reports showing that the complainant sustained injuries as a result of the assault.
While dismissing the application, Justice John Mativo said Mr. Wakanyua failed to present evidence that would convince the court that there were enough reasons to stop his prosecution. This means the net is now cast into the ocean of justice and the Dean has no otherwise but to face the law.
"I find that there is nothing to show that the prosecution is unfair or an abuse of court process," said Justice Mativo.
In his filed affidavit to the court, Mr. Wakanyua claimed the charges against him were maliciously planned by the complainant, Dr. Rosa Ko in an effort to discredit him from ascending to the position of the Dean of Students at CUEA. He claimed Dr. Rosa Ko was also after the same position.
In a quick turn of events, documents within our reach show that Wakanyua told lies to the court through a sworn affidavit. The documents show that the complainant never applied for the position of Dean of Students at the institution. In fact, the documents show that Wakanyua was appointed in acting position as Dean in August while the said assault happened in October.
Where the rain started beating CUEA
CUEA, once a vibrant and respectable institution seems to be going down the drain with the management seemingly having given up on it.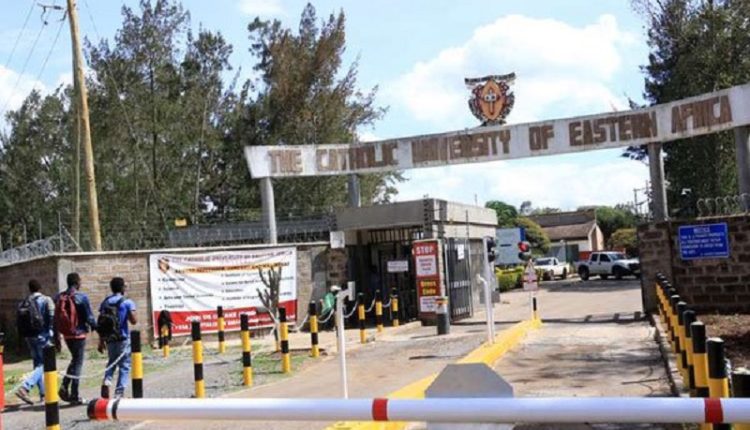 For a very long time, lecturers at the Catholic University of East Africa have been going without their salaries with some even for months.
On several occasions, both the teaching and non-teaching staff have threatened to down their tool to compel the institution to pay them.
The institution has been relying on part-time lecturers, who, upon not being paid, literally "disappear" with marks belonging to students as a way of "punishing" the management.
Senior lecturers who try to voice their concerns over delays in their payments are either threatened,declared enemies of the institution or demoted from their respective positions or assaulted as it is in the case of Dr. Rosa Ko.
An audit done at the university reveals massive mismanagement of funds meant to run the institution, including paying of lecturers.
The long hand of justice will soon be catching up with culprits like Mr. Wakanyua.