Water Projects In Kericho County Commissioned In Kericho
Principal Secretary of State Department of Irrigation Dr. Paul Ronoh made an extensive tour of Kericho County where he inspected…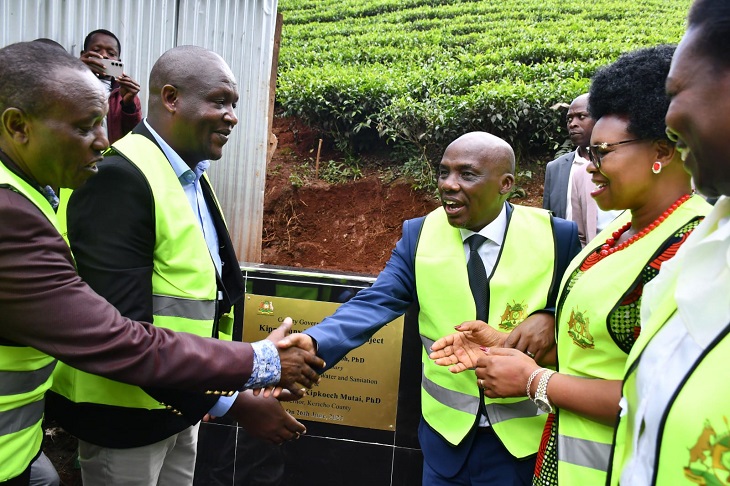 Principal Secretary of State Department of Irrigation Dr. Paul Ronoh made an extensive tour of Kericho County where he inspected and Commissioned Water projects in the county.
Among the projects inspected includes Water Supply Systems at Duka Moja, the tour of New Kimugu Intake and treatment works, Timbilil Treatment Works, Soliat Dam, and the proposed Kenya Water Institute site, Soin Technical Institute, Kaplelartet, and the Commissioning of the Kapsoit Water Supply Project which will also benefit Telanet Primary and secondary schools.
Earlier in the day, PS Ronoh signed a Memorandum of Understanding (MoU) with the Governor of Kericho county Dr. Erick Mutai, for the reduction of Non- Revenue Water (NRW) which stands at 52 % in the county. The PS also flagged the Water Police vehicles for the county adding that the Ministry has intensified efforts to protect water infrastructure just like any other critical Government infrastructure that is protected by the law.
The PS added that it was regrettable that billions of shillings were being spent yearly on water projects yet little focus has been given to it."When we talk about water management, I don't expect further destructions…we cannot be investing billions yet we are failing to manage it," Dr Ronoh said.
Dr Ronoh said Water management is a very critical component in the whole ecosystem of water deployment and added that going forward utilization of technology in the management of water will be elevated and pointed out use of technology will not stop at water management alone but will also include the construction of sewerage systems. He said the Ministry will embrace compartmental sewerage systems, where containers are used as opposed to the conventional sewerage systems that are constructed.
"The containerized systems are very effective since if there is a population increase in a certain town, we just add another container instead of constructing a new system," He said, adding that the containerized system is neat, fast in deployment, and reduces the cost of land.
He called on the contractors and Kenyans at large to take the lead role in protecting water pipeline systems and meters along road reserves against damage to prevent taxpayers' money from going to waste and undermining last-mile water reach to the grassroots.
The PS who was accompanied by Water Secretary Eng. SAO Alima, Secretary of Administration Mr. Stephen Kihara, CEOs Lake Victoria South Water Works Development Agency Mr. Chrispine Juma,  CEO, Central Rift Valley Water Works development Agency  (CRVWWDA) Eng Samuel Oruma, Hon Owidi Odoyo(Chair LVSWWDA) Hon Members of Parliament Hon Benjamin Lang'at(Ainamoi), Hon Joseph Kimutai Cherorot (Kipkelion East),  Hon. Justice Kemei(Sigowet/Soin), Hon Beatrice Kemei Chebaibai(Kericho County Women Rep) was received by the local County Commissioner Mr. Michael Lesimam and security officials.
About Post Author