"Think Environment, Think Trees!" Hotpoint Kenya Greening One School at a Time
Hotpoint Kenya, in its commitment to increase the country's forest cover by 10 percent by the year 2022 on Friday…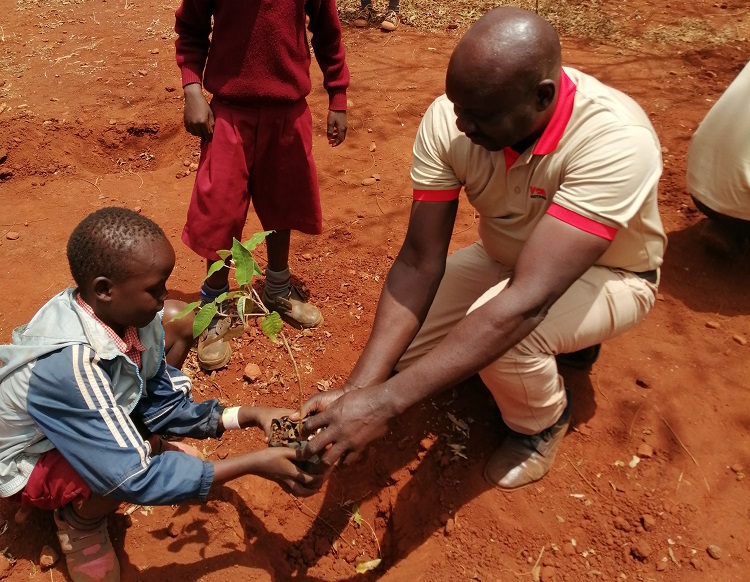 Hotpoint Kenya, in its commitment to increase the country's forest cover by 10 percent by the year 2022 on Friday moved to Ruiru Primary School where they facilitated a tree planting where 400 seedlings were planted.
In conjunction with Green Generation Initiative (GGI), a community-based project whose main aim is to nurture young environmental enthusiasts and conservationists, Hotpoint also conducted an environmental education to the pupils to foster a young environment for the future generation.
The pupils skipped only two lessons to be taken through the environmental conservation lesson and later a tree planting exercise in their school's compounds.
According to Hotpoint, the active participation of children in conservation goes a long way in ensuring that our country's conservation efforts are sustainable.
"Moreover, it acts as an active platform where values of environmental stewardship to the next generation can be easily imparted," said Carol Mungai, Hotpoint's Corporate Social Responsibility (CSR) committee member.
According to Elizabeth Wathuti, GGI Kenya's founder, it is small restoration activities like the one at Ruiru Primary School that helps people connect with each other and encourage the government to act and to encourage more local action.
As part of its sustainability program, Hotpoint also stressed on the importance of replicating its example at the school and growing them to a landscape scale for a significant impact on climate change.
The aim of Hotpoint's tree planting exercise is to try to restore Kenya's landscape beginning with schools and spread the tree-planting activity far and wide across Kenya. The 400 seedlings that were planted featured both exotic and indigenous trees, which will one day become a source of tree seedlings for other schools.
Various varieties of trees were planted including fruit trees. The trees will provide fuel, shade, act as a windbreaker, and will prevent soil erosion at Ruiru. Consecutively, they will contribute in a small way in the mitigation of climate change.
So far, Hotpoint has overseen the planting of more than 300 tree seedlings in Kiambu Township and Ruiru Central Primary School and with a committed resolve and responsibility to the environment, the company has also facilitated the planting of over 10,000 trees to date at Karura Forest and Ragia Forest in the Aberdares through the 'My Millennium Tree Foundation'.
The tree planting exercise also took place on the same date that is the Global Climate Strike day; a day that people around the world hold and urge governments and leaders to take action on matters of climate change.
About Post Author