The Massacre In Tigray Ethiopia Was Captured On Video
A new CNN investigation from senior international correspondent Nima Elbagir in collaboration with Amnesty International has verified a gruesome video showing Ethiopian forces…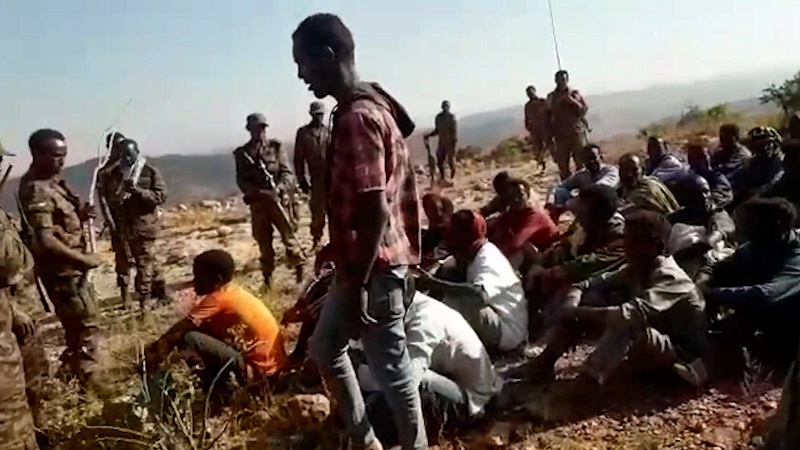 A new CNN investigation from senior international correspondent Nima Elbagir in collaboration with Amnesty International has verified a gruesome video showing Ethiopian forces carrying out extrajudicial executions of unarmed men in Ethiopia's war-torn Tigray region.
Through a forensic frame-by-frame investigation of the video footage — corroborated by analysis from Amnesty International's digital verification and modeling experts — as well as interviews with 10 family members and local residents, CNN has established that men wearing Ethiopian army uniforms executed a group of at least 11 unarmed men before disposing of their bodies near Mahibere Dego, a mountainous area in central Tigray.
"A preliminary geolocation for the site required additional spatial verification. The link between the collected footage and the location was then verified through spatial analysis and reconstruction," Martyna Marciniak, a visual investigator who built the 3D model for Amnesty International, said.
To corroborate the specific time of day the video was filmed, CNN conducted a shadow analysis using a tool called SunCalc. Based on the long shadows, it suggests the massacre was carried out in the late afternoon.
In freeze-frames of the footage, soldiers can be seen wearing uniforms with embroidered Ethiopian national flag patches on the shoulder and black "Ethiopian Army" stitching on the lapel. The uniforms appear to match those worn by the Ethiopian National Defense Force (ENDF), as seen in photos and footage taken by news agency Agence France-Presse in Tigray.
The soldiers can also be heard speaking Amharic — the dominant official language of the Ethiopian federal army — as they summon the young men to come forward and check if they're armed.
CNN interviewed 10 people who said they had lost loved ones in Mahibere Dego, or knew some of the young men who were taken away by soldiers and are believed to have been killed near the town. In an attempt to get the word out about what happened to them, several residents compiled a list of those who went missing — as many as 39 men. The list of names, and photos of 18 of the men, were shared directly with CNN. CNN has verified the identities of several of the 18 but has not established if they are the same men in the grainy video footage from the cliff.
Three different sources have told CNN that 39 men are still missing from Mahibere Dego. In one video, soldiers can be seen rounding up dozens of men, and in another clip, the bodies of at least 11 men are piled in a heap on the hillside. CNN has not been able to identify whether they are the same men.
Ethiopia is facing a raft of intense scrutiny over human rights violations that may amount to war crimes in its Tigray region. Thousands of civilians are believed to have been killed since November, when Ethiopian Prime Minister Abiy Ahmed launched a major military operation against Tigray's ruling party, the Tigray People's Liberation Front (TPLF), sending in national troops and militia fighters from Ethiopia's Amhara region.
CNN has previously compiled extensive eyewitness testimony that soldiers from neighboring Eritrea had crossed into Tigray and were perpetrating massacres, extrajudicial killings, sexual violence, and other abuses.
The Ethiopian government and its interim administration in Tigray did not immediately respond to CNN's request for comment on the video and accusations that its forces abducted scores of men from the Mahibere Dego area.
On Friday, after CNN's investigation published, Abiy's office said in a statement that "social media posts and claims cannot be taken as evidence, regardless of whether Western media report it or not." The statement added that the government "has indicated its open will for independent investigations to be undertaken in the Tigray region."
About Post Author