It is Balck Friday and everyone is happy. Despite the fact that the Covid-19 pandemic messed up things, the excitement of Black Friday is stronger than ever. And with Christmas festivities just around the corner, the Black Friday season wouldn't have come at a better time.
This is the time that people get to enjoy crazy discounts and offers on various products and services. In fact, some people are spending sleepless nights waiting for crazy flash sales to hit on such things as electronics on various platforms.
Now, BURN Manufacturing, makers of the iconic Jikokoa have some amazing offers and discounts depending on where you are buying them. You can either buy it from Jumia Kenya, Kilimall, Skygarden, or from selected supermarkets around the country.
On Jumia, for instance, the Jikokoa Classic Stove (Black) is going for 3,290 shillings from 4,490 shillings. This is a 27 percent discount. It will be delivered to you and you will be awarded a free kikoi too.
Jikokoa Classic is designed to save on the user's money and time by using 56-80% less charcoal and cooking 50% faster compared to the inefficient traditional charcoal stoves. Jikokoa dramatically reduces exposure to harmful cooking smoke and keeps your cooking area clean
At the same time, the Jikokoa Ecoa Wood/Kuniokoa is going for 2,990 shillings from 3,890 shillings. The Jikokoa Xtra Stove (Black) is now at 4,499 shillings from 5,490 shillings. It will come with a free Kamata.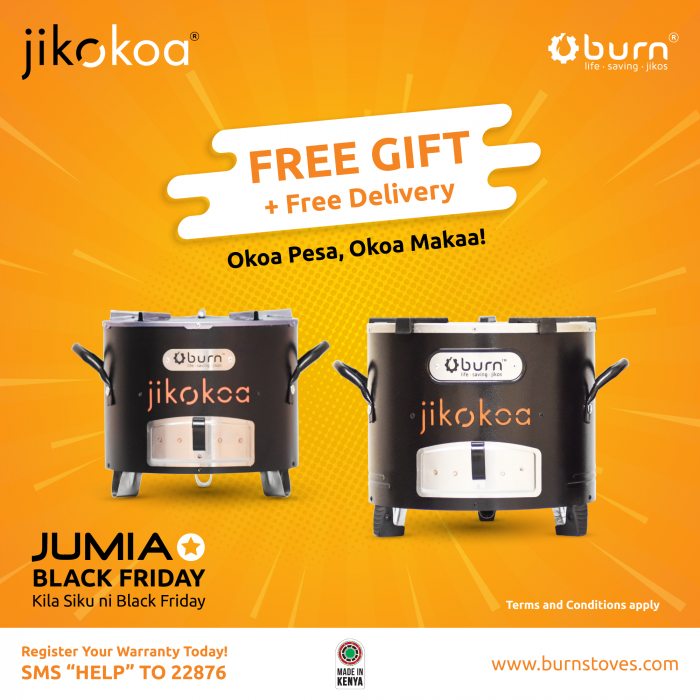 Jikokoa Classic Stove (Green) is going for 3,290 shillings from 4,490 shillings. You can get more deals on Jikokoa through this link that lands you on Jumia.
You can also visit Skygarden and buy your Jikokoa Classic (Black) for just 2,999 shillings. Methinks this is the best price so far by the way. Here is their link. On Kilimall, the Jikokoa Cooking stove (Green) is going for 3,100 shillings from 3,290 shillings.
Some of the supermarkets you can get your Jikokoa include; Naivas, Tuskys, Magunas, Tumaini, Khetisa, Tumaini, Quickmart, Cleanshelf, Shoprite.
Oh, and did you know that you can also buy your Jikokoa from Equity Bank and KWFT? Now you know.