Tanzania's Taifa Gas Launches In Kenya
Tanzania's Taifa Gas has launched in Kenya, officially posing competition for Kenyan local suppliers, a move that analysts say will…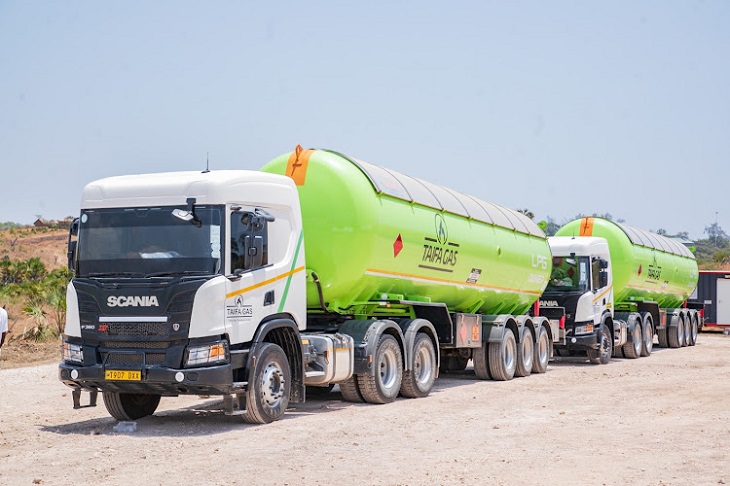 Tanzania's Taifa Gas has launched in Kenya, officially posing competition for Kenyan local suppliers, a move that analysts say will lower the cost of cooking gas that is currently biting Kenyans. The launch of the firm was presided over by President William Ruto.
The company belongs to Tanzanian billionaire Rostam Aziz, who has started the construction of the plant in Dongo Kundu, one of the Special Economic Zones set aside by the government. Local suppliers had opposed the move to allow him to set up the firm.
Construction of the 30,000-tonne facility bids against Mombasa-based tycoon Mohamed Jaffer, whose 25,000-tonne Africa Gas and Oil Ltd (Agol) handles 90 percent of the cooking gas imported for the Kenyan market, to the point of enjoying monopoly.
"We are determined to use innovative technologies to improve the efficiency of the LPG supply chain and to deliver it to consumers without high-up front costs," Mr. Rostam said.
During the launch, President William Ruto said that Kenyans will soon find relief with plans to remove all taxes on Liquefied Petroleum Gas (LPG) popularly known as cooking gas underway. The move will bring down the cost of buying and refilling of cooking gas.
Ruto asserted that his administration will ensure that every Kenyan household has access to cooking gas by making it affordable. Additionally, the Head of State cautioned retailers using illegal cylinders to sell cooking gas and subsequently issued instructions that all illegal gas filling stations are eliminated.
Taifa Gas is one of the largest gas suppliers in Tanzania with over 20 operating depots in Mwanza, Mbeya, Moshi, Dodoma, Singida, Morogoro, Iringa, Kahama, Kigoma, Songea, Njombe, Manyara, Bukoba, Geita, Tabora, Musoma, Arusha, Sumbawanga, Tanga and Shinyanga. Two depots Mwanga and Lindi are in the final stages of construction.
The price of cooking gas has spiked in the recent months, forcing many Kenyans to back to using charcoal and firewood.
About Post Author