Stima Sacco Launches A New Branch At Electricity House
Stima DT Sacco, to bring services closer to the people, has today launched a new branch domiciled at the Electricity…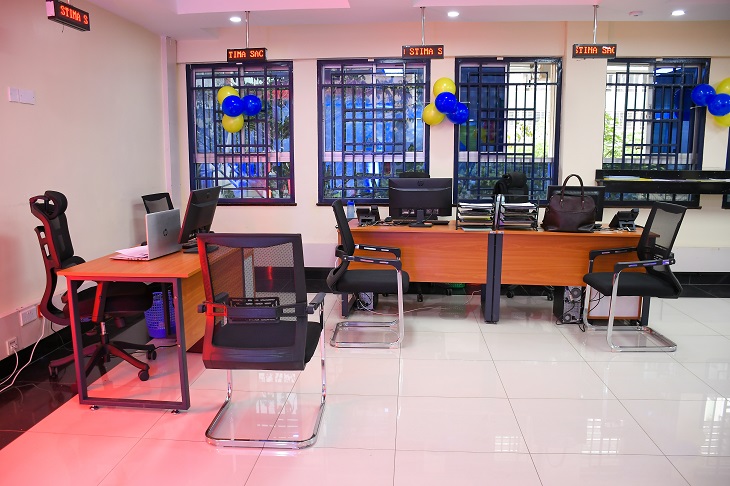 Stima DT Sacco, to bring services closer to the people, has today launched a new branch domiciled at the Electricity House in Nairobi.
The opening of the office forms part of the decentralization policy implemented by the Sacco in its efforts to come closer to its members.
The Sacco has made this strategic choice to enhance the effectiveness and impact of its operations in the various corners of the country.
Speaking during the launch, Stima DT Sacco Chief Executive Officer Dr. Gamaliel Hasan said the establishment of the new Branch reflects Sacco's unwavering commitment to meeting the evolving needs of its members and the modern demands of the digital age, most especially in the capital city of Kenya.
"Nairobi, the economic hub of Kenya, is a city that thrives on innovation, entrepreneurship, and a dynamic financial sector. As such, it comes as no surprise that Nairobi offers a plethora of financial options to cater to the diverse needs and aspirations of its residents," said Dr. Hasan.
He further emphasized that the Branch Expansion Strategy of Stima Sacco has always been centered around three key pillars: accessibility, convenience, and member satisfaction.
At the heart of our Branch Expansion Strategy lies a commitment to bring our services closer to our valued members," he asserted.
"We recognize the importance of accessibility and convenience in meeting the evolving needs of our members in today's fast-paced world. This new Branch exemplifies our dedication to bridging the gap and ensuring that our financial services are readily available to all."
The CEO further averred that convenience is another crucial aspect of the Branch Expansion Strategy.
"We understand that the fast-paced nature of modern life demands flexibility and efficiency. We live in an era where time is a valuable commodity, and efficiency is paramount," Dr Hasan stressed.
"Our new branch is strategically located to offer convenience to our members, allowing them to access our services without having to travel long distances or endure lengthy commutes. It represents our dedication to making banking more convenient, hassle-free, and tailored to the diverse lifestyles of our members."
Speaking at the same time, Stima DT Sacco National Chairman, Eng. Albert Mugo said that the launch of the new branch demonstrates Sacco's continuing commitment as a partner in the economic and financial development of all corners of Kenya.
The chairman emphasized that the launch of the new Branch is a significant step towards accomplishing the Sacco's 2019-2024 strategic plan, which also incorporates the Branch expansion program.
"As a fast-growing Sacco, it is imperative to continue seeking visibility and brand presence throughout the country. We have therefore embarked on an expansion drive to bring quality products and services to all Kenyans," said Eng. Mugo.
"Aside from our head office in Nairobi, we have been able to open strategic business units in Nakuru, Mombasa, Kisumu, Eldoret, Nairobi CBD – Kimathi House, Olkaria, Embu, Kawi Complex, Meru, Kisii, and now, at Electricity House."
While explaining why Sacco launched the new branch in Nairobi, the chairman asserted that according to the Nairobi International Financial Centre, it boils down to five factors – capital, agility, growth, lifestyle, and sustainability.
"Nairobi has one of the most sophisticated and innovative financial services sectors in Africa. Over 80% of the population has access to financial services, with the country striving for 100% by 2030. Nairobi's tech scene continues to evolve and has helped transform banking, access to clean energy, agriculture, healthcare, and education," said Eng. Mugo.
He further stressed that by opening the Branch, Sacco hopes to meet the demands of a burgeoning local population. Eng. Mugo also urged members to make use of Sacco's online services to save themselves the time of hopping from one branch to another.
About Post Author