Stanbic Bank Makes Ksh 7.1 Billion In Profits In 6 Months To June
Stanbic Holdings Plc has announced a KES 7.1 profit after tax for the half-year period ended June 2023, attributed to…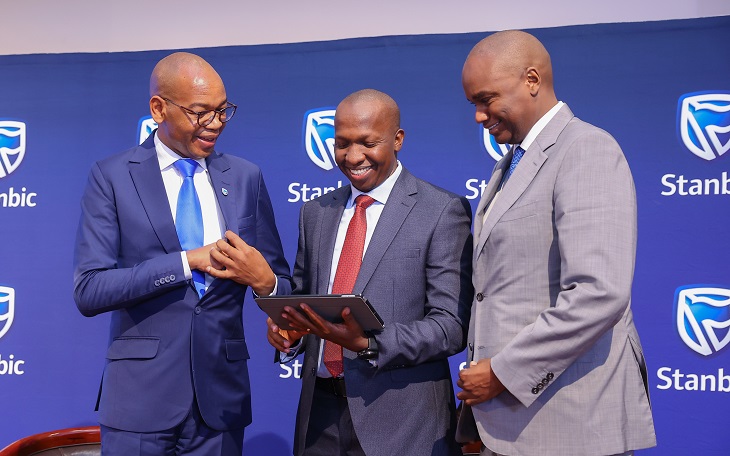 Stanbic Holdings Plc has announced a KES 7.1 profit after tax for the half-year period ended June 2023, attributed to strong revenue and balance sheet growth. Total revenue increased by 38% to KES 21 billion while return on equity rose by 472bps.
Stanbic Kenya and South Sudan's Chief Executive, Dr Joshua Oigara stated that focused execution of the Group's strategy was critical to delivering strong results despite a challenging operating business environment influenced by negative global and local economic trends.
"Our business delivered strong results despite challenging market and geopolitical dynamics all of which caused monetary and fiscal pressure. Leveraging on our core capabilities and market segments, we seized opportunities and navigated macro and micro challenges, sustaining growth in our Kenya and South Sudan businesses. We remain committed to delivering superior value to our clients, shareholders, and partners, who continue to drive our performance. We are pleased to declare a Kes 1.15 dividend per share for our shareholders."
With a diversified portfolio of corporate & investment banking, business, commercial and retail banking financial solutions, the Group continued to focus on its key sectors including trade, consumer, power infrastructure, and SMEs in Kenya and South Sudan.
Customer deposits increased by 10% to stand at KES 259 billion, while loans and advances to customers grew by 12% to close at KES 244 billion, highlighting the Bank's commitment to supporting economic growth and development.
Stanbic's Chief Financial and Value Officer Mr. Dennis Musau noted that Stanbic's strategy and key growth drivers helped the Group navigate the challenging operating environment.
"In the period under review, we had strong momentum in our fundamentals, helping us deliver client and shareholder value. Our client-centric approach continues to bear fruit enabling us to deliver strong growth in all revenue lines and key balance sheet drivers,'' said Musau. "Our business model, liquidity, and capital position remain sufficient to support future growth."
"Supported by high operational efficiency and market focus, Stanbic's banking business in South Sudan remained profitable as we continued to facilitate payments and intermediate foreign currency flows for our clients,'' Musau added.
Stanbic is committed to driving diversity and inclusion, with a specific focus on women. Through the Dare to Aspire Dare to Achieve (DADA) platform, the Bank has committed KES 20 billion to finance women. Since its launch 3 years ago, the platform has attracted more than 63,000 new 'Dadas' and disbursed loans amounting to KES 8.4b in the first half of 2023.
Aligned with its purpose to drive growth in Kenya and South Sudan, Stanbic disbursed loans worth KES 22 billion to support SMEs and USD 100m to green projects. During the period under review, over 900 MSMEs were trained while 69 MSMEs went through coaching. The training and coaching were centered around business resilience, how MSMEs can grow their business, planning, enterprise development, financial management, and digital marketing, among others. Through the Stanbic Foundation, the Group facilitated cancer screening for free reaching over 2,000 beneficiaries.
About Post Author