Stanbic Bank Launches Branch On The Nairobi Expressway
Stanbic Bank Kenya, a member of the Standard Bank Group has today reiterated its support for Kenya's development through investments…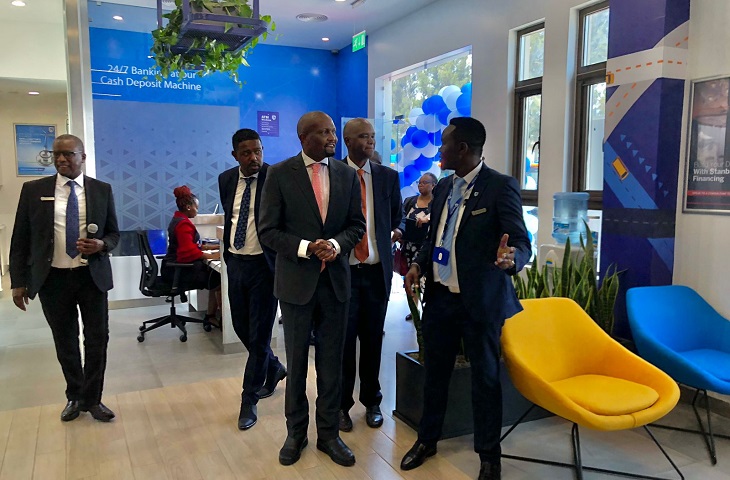 Stanbic Bank Kenya, a member of the Standard Bank Group has today reiterated its support for Kenya's development through investments in trade and infrastructure as it officially launched its newest Nairobi Expressway branch, aimed at supporting users of the Expressway.
The launch took place ahead of a high-level visit by a delegation from the Republic of South Africa scheduled to attend the Kenya – South Africa Business Forum where they will be discussing ways to unlock trade and investment potential and deepen mutual cooperation between both countries.
Over the years, Stanbic Bank has created access to markets through concrete business opportunities by eliminating financial access barriers and easing the flow of goods and services through innovative technological solutions and transaction capabilities across Africa.
However, according to the World Bank, trade in Africa remains highly underexploited, accounting for only 12% of all economic activity in the region. Moreover, cross-border trade is highly dependent on roads, so road networks across markets must be in great condition.
Speaking during the event, Hon. Moses Kuria, the Cabinet Secretary to the Ministry of Investment, Trade & Industrialization, reiterated the government's commitment to creating an enabling environment that will facilitate trade and industrialization, including infrastructural development in the country. Public-private partnerships will be key in ensuring that the country's development agenda is realized.
As part of the government's initiative to increase the road network in Kenya, Stanbic Bank partnered with its client Mota-Engil to implement the Lot 15 & Lot 18 road construction projects worth KES10bn under the Kenya Roads Annuity Program within the Government of Kenya's Public-Private Partnerships (PPP) Framework. Further, the bank has partnered with the Kenya Ports Authority to kick-start the Lamu Port operations and realize the LAPSSET corridor vision by financing port equipment worth USD103 million.
Speaking during the opening of the Nairobi Expressway branch, Stanbic Bank Kenya Chief Executive, Mr. Charles Mudiwa spoke on Stanbic's commitment to catalyze Kenya's growth. He said, "At Stanbic, we are guided by our purpose that Kenya is our home; we drive her growth.  We take immense pride in our growing portfolio of milestones that are a catalyst to unlocking social and economic growth for the country. The opening of this branch is part of our commitment to serve our clients and meet the needs of the Moja Expressway users."
Stanbic Bank Kenya is proud to partner with the government to provide financing and contract guarantees in implementing the Nairobi Expressway through a public-private partnership project. This project has revolutionized the face of Nairobi and created the efficient movement of people, goods, and services.
Stanbic Bank Kenya is a member of the Standard Bank Group which is the largest financial institution in Africa by market capitalization, having representation in 20 countries across Sub-Saharan Africa, operating five global financial centers and three offshore hubs making them one of the largest banking networks on the continent. The group recently celebrated its 160-year anniversary and 64-year heritage in Kenya. Stanbic's unique presence across Africa and strategic partnership with the Industrial and Commercial Bank of China (ICBC), have led to the facilitation of investment and development flows in Africa, and access to international capital to facilitate growth and diversification.
H.E. Mr. Johannes Mahlangu, the High Commissioner of South Africa to Kenya, lauded the strong partnership that exists between Kenya and South Africa and emphasized that synergies between our two countries are important in enhancing bilateral trade relations for the benefit of our citizenry.
The Regional Chief Executive of East Africa, Mr. Patrick Mweheire, also lauded the achievements made by Stanbic Bank Kenya and expounded on Standard Bank's capability in serving the continent. "Stanbic Bank Kenya continues to be an example of how much we can do in developing solutions for Africans by Africans. Guided by our strong network, infrastructure, and long-established relationships with clients across the continent, Standard Bank provides its clients with superior liquidity and settlement capability across the board. This is in addition to Stanbic Bank's award-winning unmatched expertise in global markets, investment banking, our offering in transactional products and services, trade services, supply chain financing, and investment services in Africa."
The Standard Bank Group was the first to offer social loans in the South African Real Estate Investment Trust (REIT) and Real Estate Finance sectors through its partnership with Growthpoint Student Accommodation Holdings (RF) Ltd. Stanbic Bank Kenya supported the Acorn Project in developing the Qwetu students' housing in Kenya. The bank also acted as the global coordinator and co-lender to M-Kopa. Through this facility, M-Kopa has impacted about 3.7 million lives with modern, clean energy helping their clients avoid 2 million metric tonnes of Carbon Dioxide and unlocking USD 500 million for the unbanked and underserved. These investments are part of the intentional engagements by Standard Bank in adhering to its Social, Economic, and Environmental (SEE) agenda.
About Post Author