According to the updated school term dates, the 2022 academic calendar year started on 25th April 2022 and ends on the 25th of November 2022 to pave way for Grade 6 national summative exams, KCPE, and KCSE national examinations.
This year, the 2022 school calendar is very unique in that there will be three national examinations in November and December just after six months of teaching and learning
According to the Ministry of Education directive, Term 3 opens officially on 26/09/2022 and on 25/11/2022, for a 2 months break. Thereafter, the KCSE 2022 examinations will kick off on 1st December 2022 till 23rd December 2022.
Note that in this term, there shall be no Halfterm for all schools since it shall be a short term considering the fact that this also will be an examination period.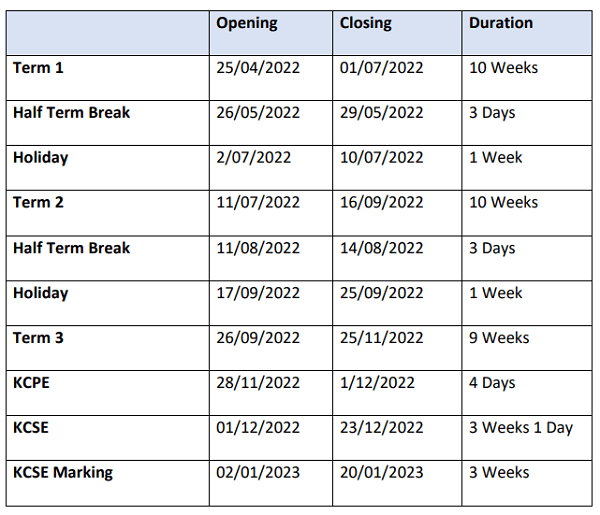 The Kenya school term dates will normalize again within the year 2023. KCPE and KCSE national exams will be done in November 2023 as usual.
The Kenya Certificate of Primary Education (KCPE) and Kenya Certificate of Secondary Education (KCSE) are scheduled for November 28 and December 23, respectively, for the 2022 academic year.
The Grade Six examination will be held between November 28 and 30 2022, with 1.27 million candidates registered to take the first exam under the new curriculum, which will see them enter junior secondary schools.
At the same time, the Teachers Service Commission (TSC) intends to create a data bank of interviewed teachers to make it easier to replace those who leave the service during the 2022–2023 fiscal year for secondary Schools
TSC listed approximately 219,311 unemployed secondary school teachers in mid-July 2022. These teachers had applied for only 4, 000 new secondary school openings, and only five candidates (teachers) were shortlisted for each opening.
The Board of Management would be expected to create a vacancy-specific merit list from the list of five candidates who were shortlisted and interviewed for each opening at every secondary school in the nation.