The much-needed but rarely-found bee venom honey is now found in Kenya, stocked by Savannah Honey, sighing relief to millions of Kenyans who often look for it for the massive medicinal value that it carries with.
Been venom is a colorless acidic liquid that bees often excrete through their stingers into a target when they feel threatened. It contains both anti-inflammatory compounds including enzymes, sugar, minerals, and amino acids.
"We know the challenges that Kenyans go through in finding this kind of honey. It is not easy to come by. It is actually as rare as gold. We have stocked it, natural and organic for our customers," Mr. Kyalo Maveke, the CEO of Savannah Honey.
Some of the benefits of Bee Venom Honey include:
Has powerful inflammatory properties and may benefit the health of the skin and immune health of HIV/AIDS patients.
Aids in the treatment of osteoarthritis
Helps to treat breast cancer
Aids in the treatment of Parkinson disease and Arthritis.
Aids in the treatment of multiple sclerosis
Treats muscle conditions such as fibromyosis and enthesitis
Improves certain medical conditions such as rheumatoid and chronic pain
Helps on nerve pain
Improves facial wrinkles by decreasing total wrinkles and average wrinkle depth.
Kenya imports about 80 percent of honey from other countries. With the demand for honey ever sky-rocketing, the local market is only able to provide 20 percent of the much-needed honey.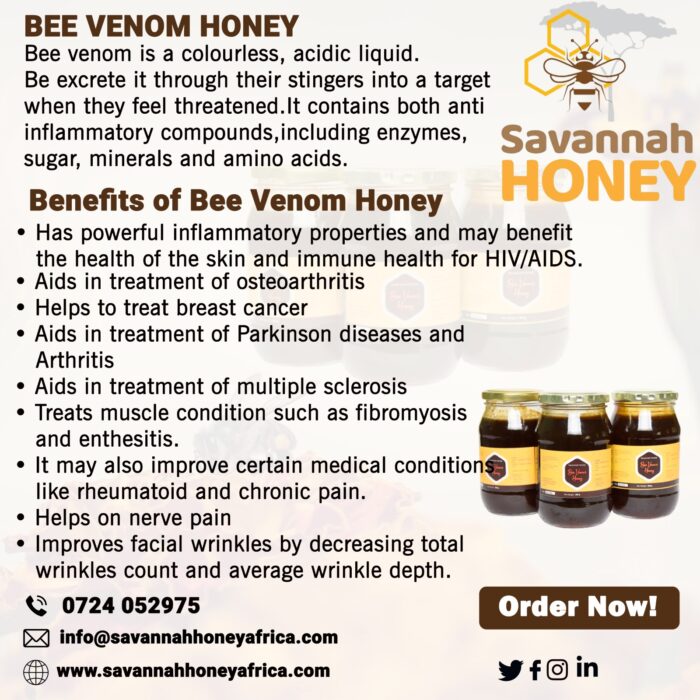 This is despite the fact that Kenya has a huge potential for self-reliance in terms of beekeeping and honey production.
"We know that honey is the new gold. And we at Savannah Honey are dedicated to ensuring that as many Kenyans as possible get to have a taste of this sweetness. We train and supply Langstroth hives to potential farmers," added Mr. Kyalo the CEO of Savannah Honey.