Samsung Launches An Impressive 98-inch Neo QLED TV
Samsung has launched the impressive 98-inch Neo QLED TV. This stunning display promises to transform the way consumers experience their…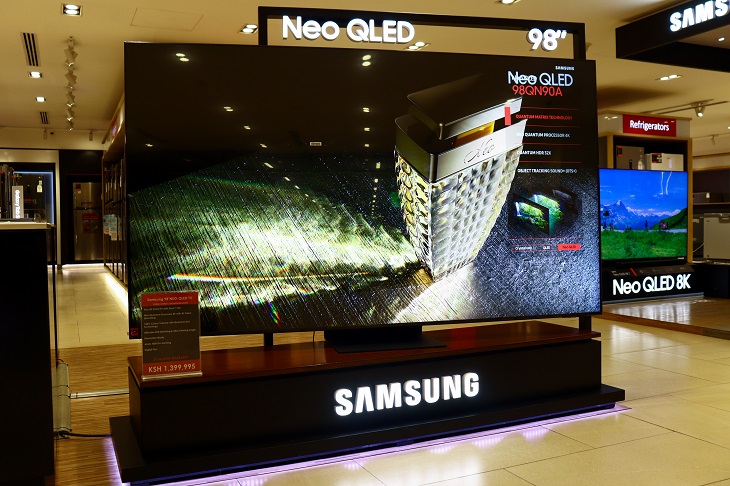 Samsung has launched the impressive 98-inch Neo QLED TV. This stunning display promises to transform the way consumers experience their favorite movies, sports events, and gaming sessions, bringing them closer to the action than ever before.
Featuring state-of-the-art technology and a breathtaking design, the 98-inch TV sets a new standard for immersive viewing experiences. With its expansive screen size, the 98-inch Neo QLED TV delivers an unparalleled level of realism, allowing viewers to feel fully immersed in the content they love.
Whether it's the latest blockbuster movie, a live sporting event, or a thrilling video game, users will be captivated by the lifelike visuals and vibrant colors brought to life on this impressive display.
According to market research firm Omdia, the global market size of 85-inch screens has grown exponentially from 180,000 units sold in 2019 to 1.87 million units sold in 2022. Likewise, for 98-inch screens, the global market has increased from less than 1,000 units sold in 2019 to about 160,000 units sold in 2022.
Speaking at the unveiling of the TV, the Head of Consumer Electronics at Samsung Electronics East Africa, Sam Odhiambo, said that the Samsung 98-inch TV combines industry-leading picture quality with advanced features to create an unforgettable entertainment experience. "Equipped with the cutting-edge resolution, viewers can enjoy incredibly sharp and detailed images that reveal even the smallest nuances in every frame. The TV also incorporates Quantum HDR technology, enhancing contrast and providing a wider range of colors for a more dynamic and lifelike picture," he said.
Mr. Odhiambo added, that in addition to its remarkable visual capabilities, the 98-inch TV comes packed with smart features that elevate convenience and accessibility.
"About ten years ago, a 60-inch TV was considered a large TV. But as time went by, 65-inch TVs became mainstream, and now 75-inch and 85-inch TVs have become popular, demonstrating consumers' growing demand for larger TVs," said Heejin Chae, TV Product Planning, Samsung Electronics. "In fact, our customer survey showed that 75% of consumers bought, on average, a TV 13 inches bigger than their previously purchased TV model."
Furthermore, the Samsung 98-inch TV is designed to be a hub for all forms of entertainment. It supports an array of connectivity options, allowing users to effortlessly access their favorite content from various sources. Whether it's streaming services, gaming consoles, or external devices, this TV offers a seamless and hassle-free entertainment ecosystem.
Samsung remains committed to user-centric innovation and sustainability. The 98-inch TV incorporates energy-efficient technologies, ensuring minimal power consumption without compromising performance. This dedication to eco-friendly design aligns with Samsung's long-standing commitment to reducing its environmental footprint and creating a greener future.
Read More: Samsung Washing Machines Win Award for Innovative Designs and Efficiency
About Post Author