Safaricom Announces 58 Cents Per Share In Interim Dividends
Safaricom's 6.0% drop in interim profit distribution to the shareholders follows a 10% fall in net profit for the six…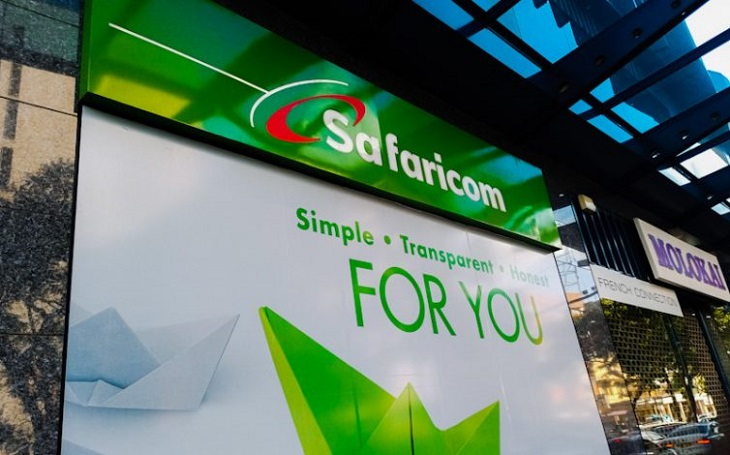 Safaricom PLC has announced an interim dividend of 0.58 shillings per ordinary share for the year ending March 31, 2023. Safaricom has cut down on interim dividends for the first time since launching on the account of a dip in profits.
"The total interim dividend will amount to 23.42 billion shillings… payable to shareholders on the Register of Members as at the close of business on March 15, 2023, and will be paid on or about March 31, 2023," said Safaricom.
Here is the statement from the giant telco: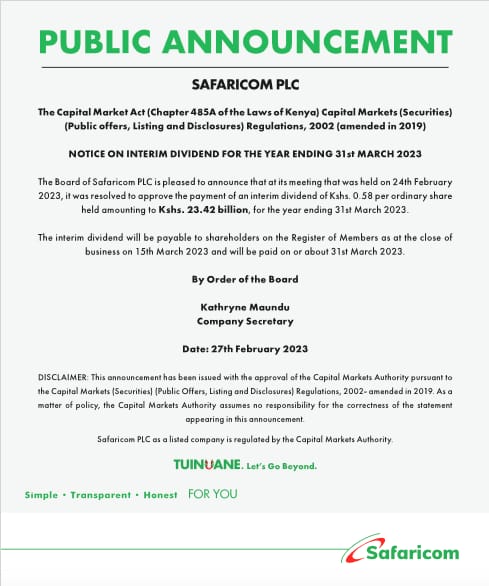 "The board of Safaricom PLC is pleased to announce that at a meeting that was held on 24th February 2023, it was resolved to approve the payment of an interim dividend of 0.58 shillings per ordinary share held amounting to Sh23.42 billion, for the year ending 31st March 2023," Safaricom said in a note to shareholders.
Safaricom's 6.0 percent drop in interim profit distribution to the shareholders follows a 10 percent fall in net profit for the six months that ended last September to 33.5 billion shillings.
At the same time, the firm's profitability for the period was slowed down by a cut on the rate mobile phone operators charge each other for interconnecting customers at a time it was spending heavily on entry into Ethiopia.
As of February 2023, Safaricom Telecommunications Ethiopia PLC had penetrated around 10 percent of the population. The company is currently planning to introduce M-Pesa services in Ethiopia, a move that will bolster its profits.
This translates to over 11 million people, 847 network sites in 25 cities, onboarded 28,000 retailers, 103 distributor shops, and 5,000 acquisition agents. The company had also crossed the 2 million mark in customer gross additions.
"Our growth trajectory is even more exciting for us as we look forward to offering financial services through M-PESA. We are finalizing our commercial and technical readiness and we expect to launch operations within the upcoming financial year," he added.
About Post Author