One on One With 2 of Africa's Great Water Sport Competitors
Born and raised in the Jinga District in Uganda, Sadat Kawawa was always intrigued by the kayakers he saw navigating…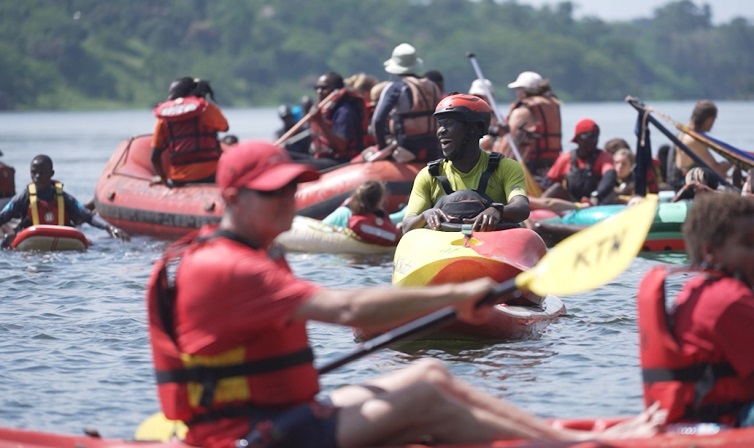 Born and raised in the Jinga District in Uganda, Sadat Kawawa was always intrigued by the kayakers he saw navigating the Nile River.
He could not afford kayaking lessons when he was young, but his determination drove him to find an alternative way to break into the sport. He befriended local kayakers and offered to carry kayaks in exchange for lessons instead of money.
"I am an award-winning white-water kayaker with a mission to inspire black athletes," says Larry Madowo from CNN's Changemakers.
Kawawa then went professional after representing his country in the 'Ugandan Freestyle Kayak Team' at the World Championships in Canada. His love for kayaking has allowed him to see parts of the world he never imagined. However, the Nile River is still the place he considers home and where he always practices his kayaking. In the program, Kawawa is preparing for an endurance race that tests technical skills and strength, where kayakers must paddle in pairs for more than 20km. In this race, Kawawa is joined by his younger brother, which is particularly special given that Kawawa has always been a source of inspiration for his sibling.
After competing in the 2020 men's category at the 2020 Nile River Festival, Kawawa was nicknamed as 'King of the Nile.' Over the past decade, he has become a local legend in the kayaking community. According to the organizer of the Nile River Festival, Chris Mudie, "He is well admired here. He is a fantastic kayaker who shows people what they can do." Kawawa's mentee, Magada Michael echoes this admiration, "He is my role model."
Looking forward, Kawawa wants to give back to his community, "If I tell you what the future holds for me, I think I'll be lying. I'm not sure a hundred percent. But the idea is to try to push to get to another level, but also, try to bring kayaking life or kayaking community back here in Uganda."
Larry also meets another great kite surfer. Born in Cape Verde, kite surfer Airton Cozzolino developed a love of water from an early age. "You know, kite surfing for me is like life," he says. Cozzolino was naturally drawn to surfing due to the connected community and culture that comes with it. Everything changed when he met an Italian kiteboarder Libero Cozzolino in Cape Verde, who later down the line became his adopted father. This encounter opened many opportunities for him and led him to compete and defeat some of the best kitesurfers in the world.
Now a five-time world champion, he has become one of the most popular figures on the GKA Kite World Tour, having faced off against the talented Moroccan Moumin Maji. Alongside his titles and sponsorship deals, Cozzolino also supports his father in Italy and Cape Verde with his water sports schools.
"I am what I meant to be. And for me, the Ocean saved my life. If it wasn't for that piece of board and that small waves and I think I couldn't be here right now, you know. Thanks to the ocean, I'm here and doing what I love," he concludes.
About Post Author