National Bank Moves in to Help Fight Kidney Disease
The National Bank of Kenya has partnered with Angelica Medical Supplies to donate renal dialysis equipment and distribute glucometers and…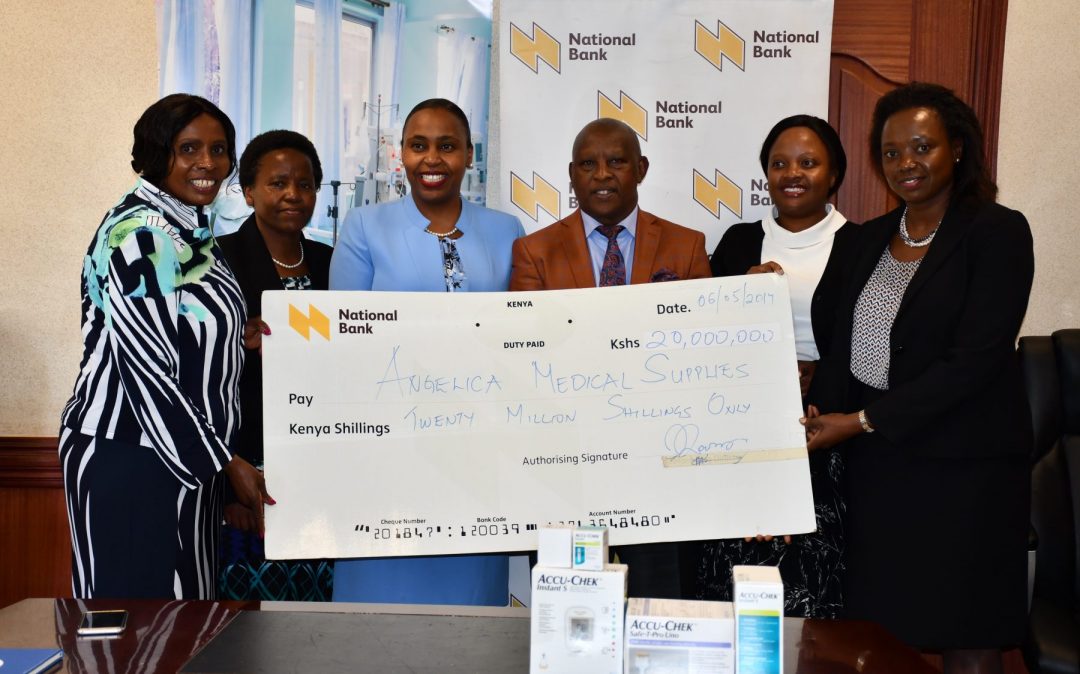 The National Bank of Kenya has partnered with Angelica Medical Supplies to donate renal dialysis equipment and distribute glucometers and strips for use in testing of blood sugar in patients at Renal Centres in public hospitals.
This CSR initiative signifies the importance of public-private partnerships to fight chronic diseases in Kenya.
There is a high prevalence of kidney disease in several of Kenya's counties due to high cases of diabetes and hypertension.
Nyeri Level 5 Hospital, for instance, has been recording an increase in the number of patients in need of dialysis services with cases of diabetes also on the rise, occasioning the need for additional renal dialysis equipment, and blood sugar testing kits.S
Under the government's MES programme, the Nyeri Level 5 hospital already has five renal dialysis machines.
The installation of the new equipment, which include one AMPLYA machine – a continuous renal replacement therapy (CRRT) machine that treats patients with severe sepsis and multiple organ failure in the critical care unit, and two additional Formula 2000 Plus hemodialysis machines for treatment of End Stage Renal Disease (ESRD), is buoyed by statistics from the Kenya Renal Association (KRA) which show that 4.8 million Kenyans will be suffering from kidney disease by the year 2030.
Additional data indicates that out of about four million who suffer from Chronic Kidney Disease (CKD), less than 10,000 are on dialysis. Nyeri County is one of the most affected in the country.
"Public-Private Partnerships such as this one will ensure we achieve the universal health coverage recently launched by the president. With the glucometers provided to us by the National Bank of Kenya, we can now offer free blood sugar testing to everyone who visits this facility. This puts us in control of managing emerging cases of diabetes," said Nyeri County Governor, Mutahi Kahiga as he received the equipment.
Diabetes is among the most common causes of kidney disease, with other high-risk factors including hypertension, a family history of kidney diseases, people living with HIV, obesity, and use of chronic illness drugs especially for various arthritis including gout.
According to Wilfred Musau, National Bank's CEO and Managing Director, through the partnership, blood sugar testing will be offered free-of-charge to patients at the Centers.
"This will be a great relief as the current daily cost of more than Kes. 200 is out of the reach of many ordinary Kenyans. As part of our sustainable CSR strategy, we wish to play an integral role in contributing to the Big Four Agenda by supporting the government in the provision of affordable health Care for all," he said.
The use of the chronic care model has been proposed for the management of CKD. This model employs improving continuity of care, decision-support for care providers, delivery system design (e.g. collaboration between multidisciplinary teams and providers), and patient self-management support to improve outcomes.
"We want to ensure effective management and care for kidney disease patients, and proper monitoring of blood sugar status in patients undergoing hemodialysis at the Renal Centres in all public hospitals," said Angelica Executive Director, Mary Matu.
About Post Author