Man vs Machine Featuring Omanyala And Kalle Rovanperä
CFAO Motors has announced the launch of an exhilarating campaign that showcases the brand's commitment to supporting and nurturing sportsmanship…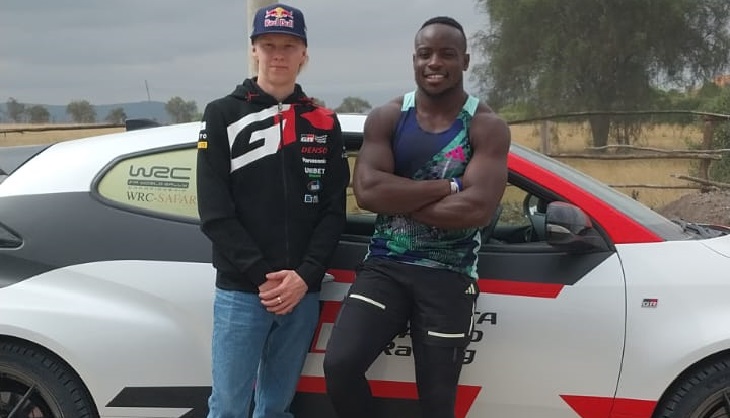 CFAO Motors has announced the launch of an exhilarating campaign that showcases the brand's commitment to supporting and nurturing sportsmanship in line with Toyota brand's value proposition of Quality, Durability, and Reliability (QDR) as well as its passion for pushing the limits, represented by its Toyota Gazoo Racing (TGR) brand.
In this campaign, Toyota proudly associates itself with two extraordinary sportsmen, Ferdinand Omanyala, the fastest man in Africa, and Kalle Rovanperä the youngest WRC Champion demonstrating the exceptional value proposition the Toyota brand delivers.
The highlight of this campaign is an electrifying man vs machine video, where Ferdinand Omanyala, the celebrated Kenyan sprinter, goes head-to-head against Kalle Rovanperä, the talented Finnish rally driver, in a thrilling 100-meter sprint.
This captivating video showcases both athletes' grit, speed, power, and precision and represents Toyota's unwavering pursuit of excellence and performance.
By leveraging the immense popularity and success of Ferdinand Omanyala and Kalle Rovanperä, Toyota aims to capture the attention of a wider audience and demonstrate how the Toyota brand aligns with their extraordinary performance. This unique partnership further establishes Toyota's commitment to supporting exceptional talents and promoting sportsmanship.
Moreover, this captivating video's unveiling coincides with Ferdinand Omanyala's announcement as the official Toyota brand ambassador. Omanyala's remarkable accomplishments and determination to continually break the 100 meters record makes him an ideal representative of the Toyota brand and its core values. Toyota proudly stands alongside Omanyala as he continues to inspire and break barriers in the world of athletics.
"We are thrilled to partner with Ferdinand Omanyala and Kalle Rovanperä in this extraordinary campaign," said Joshua Anya, Deputy Managing Director, of the Toyota business unit. "Through this thrilling man vs machine video, we aim to showcase the grit, power, precision, and passion that define the Toyota brand. We believe the association with these exceptional sportsmen and their pursuit of greatness will resonate strongly with our audience, and go a long way in inspiring future generations."
The strategic timing of this campaign, ahead of a significant rally event, ensures maximum visibility for both Ferdinand Omanyala and Kalle Rovanperä. This exciting collaboration underscores Toyota's dedication to always delivering high-performance vehicles and highlights the brand's ability to deliver unmatched value to its customers.
About Post Author