Maize At Galana Kulalu To Hit 20,000 Acres
Galana Kulalu, August 12, 2023…Twiga Foods intends to expand the irrigated acreage at the Galana Kulalu Food Security Project (GKFSP)…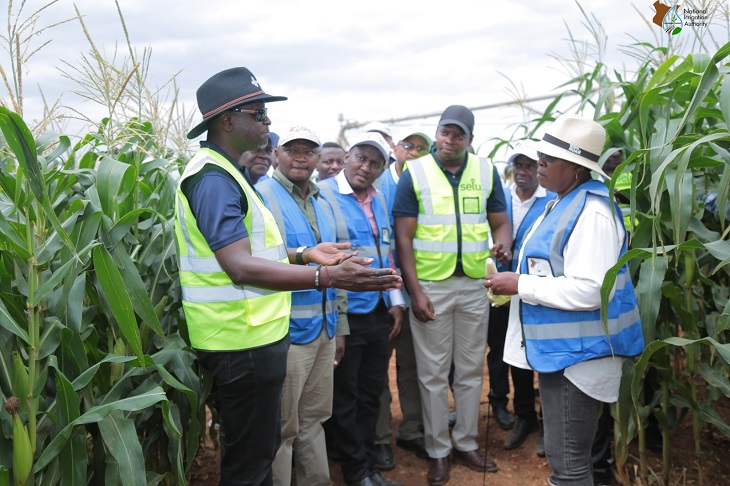 Galana Kulalu, August 12, 2023…Twiga Foods intends to expand the irrigated acreage at the Galana Kulalu Food Security Project (GKFSP) by up to 20,000 acres. This expansion is expected to result in an annual maize production of 2 million bags.
The expansion of Twiga Foods' farming of over 20,000 acres will be developed in two stages, an initial 10,000 acres followed by an additional 10,000 acres after the construction of the Galana Dam.
Twiga Foods Co-founder & Group CEO Peter Njonjo said that the expansion is informed by the area's productivity due to the irrigation infrastructure that has been set up.
"Unlike other parts of the country the maize crop takes 105 days here means with irrigation you can do three crops a year including a rotational crop and when you take into consideration the high maize yield, we anticipate we can do as much as 2 million bags per year," said Mr. Njonjo.
The construction of the Galana Dam, in line with presidential directives, is underway, and a proposal for the development of an additional 350,000 acres has also been received and is currently under review by the Authority.
Twiga Foods, working closely with the National Irrigation Authority, has already established a maize crop trial on 538 acres, employing various trial treatments to ensure optimized crop growth. The company is concurrently conducting comprehensive studies on soil conditions, irrigation systems, and crop water requirements, which will lay the foundation for the forthcoming expansion phase.
The expansion was unveiled at a tour of the expansive project where Ministry of Water, Sanitation, and Irrigation Cabinet Secretary Alice Wahome said there are plans to diversify the project's potential.
"We have bigger plans where we will do an agro park, ranching, and electricity generation."
This initiative comes as a major stride towards enhancing national food security, fostering job creation, and propelling socio-economic development in Kenya.
GKFSP spans over 1.75 million acres, encompassing the Galana and Kulalu ranches. The project is designed to optimize productivity through targeted investments in crop and livestock production, alongside sustainable management of natural resources. It is currently in its second implementation phase, with the completion rate standing at 97%. The anticipated completion date for the entire project is December 31, 2023.
Through these combined efforts, the Galana Kulalu Food Security Project aims to reinforce Kenya's agricultural sector, foster job opportunities, and contribute significantly to the country's economic growth. This alignment with the Bottom-up Economic Transformation Agenda underscores the commitment to bringing prosperity and food security to Kenyan communities.
About Post Author