LG Sponsors Wazalendo Hockey Club, Seeks To Transform Lives
LG Electronics has announced a Kes 300,000 sponsorship to Wazalendo Hockey Club ahead of the 2023 hockey season. The move…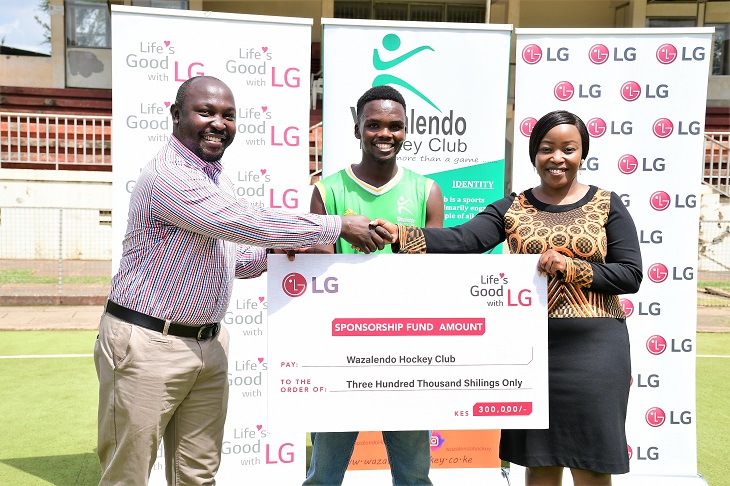 LG Electronics has announced a Kes 300,000 sponsorship to Wazalendo Hockey Club ahead of the 2023 hockey season.
The move is aimed at strengthening and sustainably transforming the lives of the community it operates in, building resilience through sports, and giving hope to many for the future. Besides, the sponsorship will not only help the club conduct its mandate but will also grow the LG brand through different marketing strategies at the club.
Speaking while making the announcement, LG Electronics EA Corporate marketing manager Maureen Kemunto said, "We believe in the power of sports to bring people together and create positive change in our communities. Therefore, we are delighted to extend our support to Wazalendo Hockey Club and are eager to see the positive impact this partnership will have on the club and the wider community".
Founded 28 years ago, Wazalendo Hockey Club is focused on developing young players in the sport through identification, mentoring, and providing an opportunity to young talented players, especially in the informal settlements of Mukuru slum and around South B where the club training field is situated.
The club has over 150 registered members and players, has managed to register 3 teams at different levels of league competition, and in 2 scenarios managed to represent Kenya in the Africa Club of Club championship (2007 and 2021) in Cairo and Accra respectively after emerging 1st runners up in the Kenya hockey premier league competitions.
In his keynote speech, Wazalendo Hockey Club president Peter Karanja expressed his gratitude for the sponsorship noting that it will make a huge difference in uplifting the team spirit and encouraging upcoming hockey players in the community.
"We are thrilled to have LG Electronics as our partner and to receive their generous financial support. This partnership will help us to develop our players and compete at the highest level. Indeed, this is an exciting development for both organizations and a testament to the power of sport to bring people together". Said Karanja.
Over the last 12 years, Wazalendo Hockey Club has run a Social Transformation project under the Young Players Development (YPD) Program that has largely seen the lives of several boys as well as their families, tremendously changed for the better through the various opportunities available via the club.
Some of the activities under the program include Mentorship and social transformation programs, weekly Hockey basics, Coaching the Highway secondary school hockey team, and engaging the 18+ YPD group on economic empowerment and revenue generation activities.
About Post Author