Larry Meets The Legends In The Court, Reveals Their Plans
In a new episode of African Voices Playmakers, a special edition of CNN's African Voices Changemakers, Larry Madowo meets former and current African NBA basketball…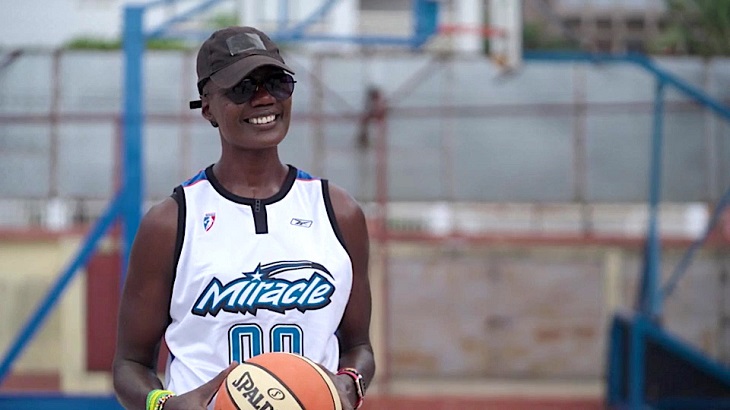 In a new episode of African Voices Playmakers, a special edition of CNN's African Voices Changemakers, Larry Madowo meets former and current African NBA basketball players who are scoring big for their teams and assisting their communities back home.
Masai Ujiri, who was born and raised in Nigeria, founded the Giants of Africa (GOA) organization to educate and enrich the lives of African youth. He explains, "I think there's so much talent in Africa that, the more eyes we get on us, the more we are going to have these talents coming out of different places." As president of the Toronto Raptors, Ujiri has scouted and helped numerous African playmakers, including Pascal Siakam and Christian Koloko.
Both Siakam and Koloko were invited to play in the Basketball Without Borders Camps hosted by the NBA. For Siakam, the camp led to him being drafted by the Toronto Raptors in 2016. He describes his first-ever experience playing in a professional NBA basketball game, "That was something that was bigger than just me. It was something that was big for the continent and my family."
After becoming the NBA's most improved player and helping the Raptors win the 2018 season championship, Siakam celebrated by bringing the trophy to Cameroon. "You want to play basketball and you want to get to the highest level, but you don't really think about those moments. Being able to go back and show the kids back home that a guy who was just like you, who comes from the same place as you and is going through the same things you're going through right now, can accomplish these things. Giving them an opportunity to just dream and believe that this is possible. I think that we all need that as young kids in Africa."
Koloko was drafted by the Toronto Raptors in 2022. Toronto was noticeably different from Arizona, where he had previously been for three years playing college basketball. "I was happy first and then I was like, it's cold in Toronto. Five seconds later I thought, I'm a basketball player, I'll be adjusting my whole life and I don't think the cold is going to stop me from living my dream. I was really happy that Toronto drafted me, I knew they had Pascal, they have a good history of African players."
Both Koloko and Siakam describe Ujiri's influence as a mentor, "What he's doing for Africa, in general, is amazing. He says Africans must win. And he's trying to do everything in his power to make that happen." Siakam echoes this sentiment, saying "He's a great leader." The two Cameroonians also describe their brotherly bond, Siakam saying "[Koloko] always knows that I'm here and he can always call me or text me."
Bismack Biyombo is a Congolese player who plays for the Phoenix Suns. He first caught the NBA's attention when he attended a USA basketball event as a teenager. He says that he will never forget where he came from, "When you come out of Africa, we take Africa everywhere we go, no matter where we are. They are always going to look at us as people that represent Africa and kids across the continent look up to us."
Growing up in the Democratic Republic of Congo wasn't always easy, Biyombo shares. "There are days you go with no food, where you just don't know how tomorrow is going to look. But one of the things growing up in Africa is that our parents might not have food on the table, but we are going to get educated. One of the things that I really admire about growing up there, although it was tough, is that we grew up close, my brothers, my sisters, we're all best friends."
He now hosts his own basketball camps, hoping to instill a sense of pride in children across the continent and nurture home-grown talent. "As a kid, I think you want a way out of Africa for opportunities. But for me that has become, how can I give them a reason to stay? I see myself in them because I understand what they are going through," he says. In one of his biggest projects to date, Biyombo donated his entire NBA salary for the 21-22 season to build a hospital in Congo to honor his father's passing. Looking forward, he says he is excited to see how the sport will continue to evolve and impact people across the continent.
Clarisse Machanguana, founder and executive director of the Clarisse Machanguana Foundation is using sports to help children in her hometown reach their dreams. "The women's sports world is unique in that it gives a woman an opportunity to go about their dream. Basketball for me goes beyond being on the basketball court. It transcends my daily life," she says.
After playing professional basketball for 23 years, Machanguana returned to Mozambique to empower youth. In 2014, she created her foundation to destigmatize HIV and empower the country's new generation. "My drive and my mission are to create a difference for the girls of this country. It is my belief that limited access to education and very low self-esteem leads them to have very little agency over their lives. I wake up every day trying to figure out how I can enhance that."
She concludes, "My vision for Mozambique youth because that's what I most embrace, is that they have easier access to education that allows them to make smart decisions. With that, we'll reduce HIV and contribute to the country's growth. It might take a hundred years, it might take the time of my life, or it might happen after I have created the mentors that will take over the work, but I'm doing something." 
African Voices Playmakers airs on Saturday 11th March 2023 at 1330 SAST
The show also airs at the following times:
Sunday 12th March 2023 at 0530 SAST and 1930 SAST
Monday 13th March 2023 at 0400 SAST
Saturday 18th March 2023 at 1400 SAST
Sunday 19th March 2023 at 0430 SAST and 1930 SAST
Monday 20th March 2023 at 0400 SAST
About Post Author