Koa Partners With Britam To Offer Digital Savings
Koa, a fintech firm in Kenya, has partnered with financial services company Britam Asset Managers to help young Kenyans to…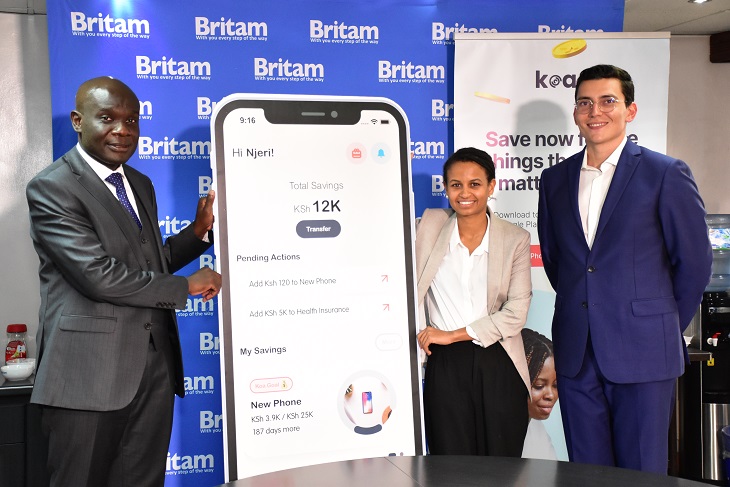 Koa, a fintech firm in Kenya, has partnered with financial services company Britam Asset Managers to help young Kenyans to start saving towards custom goals and access investment services in minutes and at the palm of their hands.
Through the Koa App, users can start saving with as little as Ksh 100 and earn interest to multiply their savings through Britam's Money Market Fund.
This partnership is the first Independent Financial Advisor (IFA) agreement of its kind in Kenya. IFA's offer independent advice on financial matters to their clients and recommend suitable financial products. With this partnership, Koa will become the first digital IFA, in partnership with Britam.
Koa's Co-Founder and COO Delila Kidanu said that the Koa App is designed to offer Kenyans an easier way to put money aside towards their personalized savings goals, encourage more people to gain control of their finances, and offer a higher interest rate as compared to other savings products in the market.
"Once goals are set, Koa lets users know how much they need to save each day, week, and month to reach their goals. Through this partnership with Britam Asset Managers, Koa users can access low-risk and high-growth savings and investment opportunities. This will not only enable them to reach their goals faster but also create long-term financial resilience," said Kidanu.
"The idea of formal savings is often perceived as intimidating, inconvenient, and difficult to start for a lot of young Kenyans. Koa is the only digital savings companion that makes it easy to start saving instantly and remain committed through personalized savings goals. Our goal is to put Kenyans on a clear and visible path toward financial freedom," added Kidanu.
KOA was started in 2020 by co-founders Alexis Roman and Delila Kidanu. KOA's vision is to unlock access to savings and investment for a previously underserved segment of consumers through a user-friendly platform that can be integrated with other tech products these customers already use and trust.
Britam Asset Managers' Principal Officer, Jude Anyiko, said the partnership will expand the firm's omnichannel strategy and deliver a superior customer experience.
"Britam Asset Managers is delighted to partner with Koa to roll out the country's first Digital IFA agreement. This partnership will enable Britam to deliver its digital savings and investment solutions in ways that are attractive, engaging, and intuitive, allowing us to access new emerging markets," said Anyiko.
While Kenyans are no strangers to the idea of saving, a Geopoll survey showed that only 34% of Kenyan respondents indicated that they save frequently. According to the survey, mobile money is the most popular savings platform, accounting for 54%, followed by bank accounts (48%) while chamas ranked third.
About Post Author