Kibos School Receives A Facelift From Crown Paints And Jambojet
In a remarkable collaboration, paint manufacturer Crown Paints and low-cost airline Jambojet have successfully renovated Kibos School for the Visually…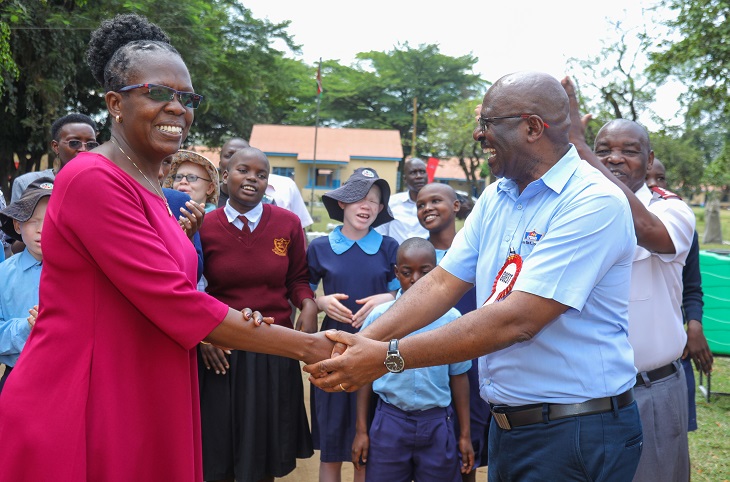 In a remarkable collaboration, paint manufacturer Crown Paints and low-cost airline Jambojet have successfully renovated Kibos School for the Visually Blind, culminating in a vibrant transformation of the school's facilities. The strategic partnership aimed to foster sustainable environmental and education programs for the visually impaired students at Kibos School.
Established in 1960, Kibos School for the Blind is a mixed boarding school located in Kisumu, catering to over 200 visually impaired students. Jambojet has been a dedicated supporter of the school since 2020, and its partnership with Crown Paints took the school's welfare to new heights, resulting in a fresh and rejuvenated learning environment.
Overseeing the completion of the paintwork, Crown Paints Group Human Resources Manager Nicholas Wanambisi expressed his delight at being part of an initiative that positively impacts the community through education. He emphasized the significance of education in empowering the community and stated, "Crown Paints is keen on providing services that impact lives, aligning with our main objective of changing lifestyles."
Mr. Wanambisi said that "for us at Crown Paints, Corporate Social Responsibility has always been a cornerstone of our values. We believe that businesses have a responsibility not only to their shareholders but also to the communities they serve. Our commitment to social responsibility goes beyond mere philanthropy; it is about making a positive impact on the lives of individuals and society."
The collaboration involved Crown Paints, providing the necessary paint and workforce for the renovation project and school fees for needy learners. The school's facilities, including 12 classrooms, an administration block, a dining hall, an assembly hall, and the entrance gate, underwent a vibrant makeover thanks to the partnership with Jambojet.
Jambojet's Chief Executive Officer, Karanja Ndegwa, highlighted the importance of education in their sustainability program and reiterated the airline's commitment to supporting Kibos School. Jambojet had previously provided learning aids, such as braille machines, printers, and braille paper, to enhance the learning experience of visually impaired students. Ndegwa stated, "We are proud of our partnership with Crown Paints, which has seen the school receive the much-needed facelift. As the leading player in the aviation industry, our focus on education aims at reducing the barriers to skill development, aligned with Sustainable Development Goal 4 (SDG 4)."
In addition to the renovation efforts, both firms graciously donated essential foodstuffs and other basic needs during the handover ceremony. This kindness brought hope and inspiration to the young learners and strengthened the bond between the corporate entities and Kibos School.
The strategic partnership between Crown Paints and Jambojet has proven to be a transformative force in the lives of the visually impaired students at Kibos School. It exemplifies their commitment to corporate social responsibility, sustainable education, and creating a positive impact on the community they serve.
About Post Author