It Is Tim For Us, ODM Declares At Last
Westlands MP Tim Wanyonyi has been cleared by the Orange Democratic Movement (ODM) to run for Governor of Nairobi, officially…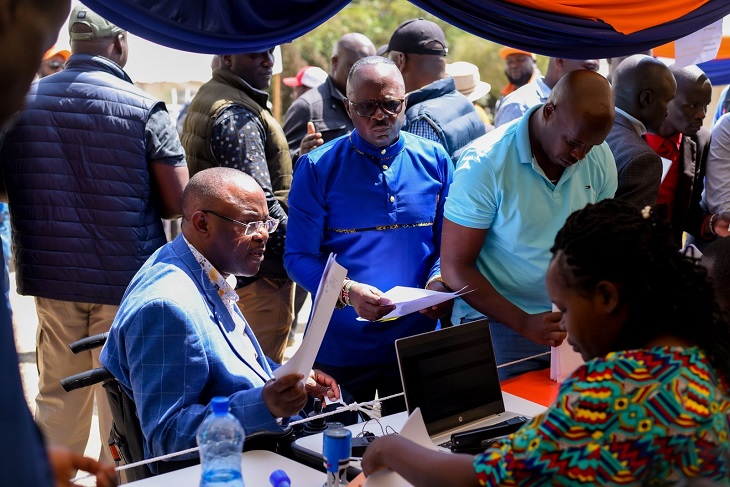 Westlands MP Tim Wanyonyi has been cleared by the Orange Democratic Movement (ODM) to run for Governor of Nairobi, officially clearing the way for the race to City Hall. Initially, there were speculations that Tim would find it difficult to wade through.
The second-term MP was cleared on Saturday, March 11 after he submitted his documents to the National Elections Board (NEB) as required for all aspirants seeking party tickets. Mr. Wanyonyi is the only one who has declared interest to run for the top city seat on an ODM ticket.
"I am just happy that I have submitted my documents for the position of governor of Nairobi. And I have been cleared. So, now I have been given the mandate to go forward and pitch my tent in campaigning for the position of Governor of Nairobi," Mr. Wanyonyi said after being cleared.
He said that it was a very important fete in his journey to City Hall explaining that there is no turning back since he has no formidable opponent for the position both within and outside the Orange party.
"Everybody wants to reach this stage and where we've reached and going forward is now to prepare for the election. So, we are happy and I am the only candidate that has been cleared for this position in the ODM party," he added.
Mr. Wanyonyi declared his interest to run for the Governor of Nairobi as early as 2018 in the presence of party leader Raila Odinga who endorsed it.
On October 31, 2021, Mr. Wanyonyi received a major boost in his bid when he was publicly endorsed by Mama Idah Odinga who described the MP as hardworking, intelligent, and well organized.
She spoke when she presided over the graduation ceremony of women and youths at Kibondeni College who had been sponsored by the Westlands MP.
"He is a very organized, intelligent, and educated person. I worked with him when he was at the Kenya Paraplegic Organisation. If it is something being done using brains, he's got very good brains. If it is something that needs good organization, he is a very organized person," Mama Idah said then.
His candidature has also received the backing of his colleagues in the National Assembly who have continuously stated that there is no other leader best suited to take over the leadership of City Hall than him.
The ODM party through Mr. Odinga and Secretary-General Edwin Sifuna have also challenged any other person who thinks are better than Mr. Wanyonyi to stand up and be counted but none has emerged.
Other leaders recognized in their parties who have declared to challenge him to include Jubilee's, incumbent Governor, Anne Kananu and Agnes Kagure, ANC's Jonson Sakaja, and UDA's Margaret Wanjiru.
About Post Author